We all want to parent like pros, do we not? Who wants to fail in this large and important endeavor? I certainly do not. Not only do I want to parent like a pro — I want to parent with purpose to ensure that my children will grow up to be happy, healthy, productive and joyful members of society. I hope that they will follow after God and be honoring to all peoples. Yes, I do have high expectations of myself. But in the middle of my own high expectations I also confess deficiencies which I know every parent has (whether or not they admit it)! I'm not perfect but I wish I was. Anyone else ever said the same thing?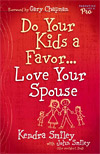 Kendra Smiley, former Illinois Mother of the Year (!?!?!) and an engaging writer and speaker has written some books which are published by Moody Press on parenting (in their Parenting Like a Pro series). Although she is the primary author listed on the front cover, her husband John, "the resident Dad" also "makes an appearance" within the pages of her latest book, Do Your Kids a Favor…Love Your Spouse
. Now, Smiley is a Christian and does incorporate scriptures with her advice but regardless of whether or not you are also a Christian – this book is just plain practical. She levels her advice in such a soft and encouraging manner that I could see myself sitting at her feet and taking all of her advice without wincing a bit! In other words, she is not overbearing, condemning or in any way discouraging. Rather, her words are loving, kind and joyful.
In Do Your Kids a Favor…Love Your Spouse
she (and John) stress the importance of respecting one's kids by respecting one's spouse. In order to truly love your children, as a married individual, you must also love your spouse. They quote a woman who received physical abuse at the hands of her husband. The person interviewing this battered woman asked her whether or not the husband had also abused the couple's children. The women replied words to the effect, "A man who abuses his wife automatically abuses his children." It's true if you think about it. A dysfunctional relationship and dysfunctional home will have it's effect on the children. Likewise, a loving father also has an effect. Chances of that loving effect having a positive outcome are high, I'd say. Smiley promotes time and attention paid to the spouse so that the children can see love in action and know that they are safe and secure because their parents' relationship is also steady and certain. It makes good sense! At an easy 116 pages, this book reads like a practical and motivating speech, worthy of some consideration.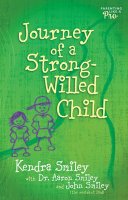 Journey of a Strong-Willed Child
is Kendra's "latest release." It was originally published as "Aaron's Way" back in 2004 but Moody has released it with a new title and cover. In this particular book, Smiley's son Aaron co-writes the book, offering his perspective on what it was like growing up as a strong-willed child, while Kendra and John offer the perspective of the parent dealing with the little blessing who wants to be in control. Never do they condemn the strong-willed child. Certainly they stress that a controlling child requires more attention and emotional energy as the parent seeks to maintain proper parental authority while still respecting the child and their personality bent. Kendra says in the opening that parenting a strong-willed child involves the following:
"Our desire is to contribute in a positive way to their development as responsible adults. Our job is not to break their spirit, but to shape their will."
Kendra and John both say in this book that it is important for parents to remain in control of their child. However, they strongly recommend that you choose your battles wisely and in all ways view your child has having strong personality assets, rather than view them as a challenge or as being "bad." Frequently these types of children are not bad – they just have strong sensitivities to black and white issues and are big on following rules for good reasons. They also tend to be particularly wounded as a result of real or perceived injustices.
I was a strong-willed child and I have to confess that I have no idea how my parents handled me growing up. By definition of what a strong-willed child is, I was a real pickle! So imagine my fear and trepidation when I gave birth to my own son! They always say you are going to get what you gave out. Thankfully my rather docile and friendly husband got the child who is like him. My son is a BREEZE in the discipline department. That said, I won't assume all of my children will be this easy. I think I'll leave room on my bookshelf for the Journey of a Strong-Willed Child
— if for no other reason than to remind me that every child I will ever have, with whatever personality, is an incredible blessing. And if I can learn to serve my children well based on their individual needs and personalities, then I'll have succeeded if only just a little.
Children ARE a blessing and books that recognize this and help strengthen the marriage bond and broaden perspective are well-welcomed, in my opinion! I HIGHLY recommend these two books.
Check out Kendra Smiley's website for additional information on these books and others.
Carrie comes by her book obsession honestly, having descended from a long line of bibliophiles. She blogs about books regularly at Reading to Know.