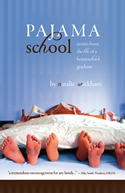 Pajama School
– stories from the life of a homeschool graduate isn't really a book I needed to read. It was just what I wanted to read because I was curious. I'm a home school graduate myself so this book did not hold many surprises for me. I'm guessing that most of you are public school graduates. Can you imagine picking up a book called, "School: Stories from the Life of a Public School Graduate"? What wouldn't you know or understand about the process? That's how I feel about reading Pajama School
. No stunning revelations.
That said, I always think it's kinda funny when people are surprised/amazed and/or alarmed by the fact that I was home schooled growing up. Did I have any friends? Did I get an education at all? Did I LIKE being home schooled? Author Natalie Wickham addresses all of these questions in her book, and couches her answers in the form of stories about her life and the things she has been able to do as a result of being home schooled.
A crazy little secret (or not) about successfully home schooled students is that we typically have more opportunity to seek out opportunities for socialization than our public school counterparts. Our time is just more flexible. Our ability to plan our school work around different activities and opportunities also allows for sweet fellowship with people of all ages. I never thought I was lacking in the social department. (Please do note that I said "successfully" home school students. There are plenty who are not, just as there are successfully uneducated public school students. No education system is perfect in all ways and in everything.)
In Wickham's book she talks a lot about her life experiences, from her early days of piano lessons to beginning and operating her own piano studio. She has worked in politics and implemented character curriculum into her local public school arena. She has done a lot with her time and her experience. This is certainly commendable. If you want an inspirational story about a home schooler who hasn't completely fouled up their life, this is a great book. Natalie Wickham is an excellent writer and shares her heart and her passions very well with her reader.
For my part, in some ways, I felt like I was reading my own life story. (That sounds weird to say.) Our experiences were just so similar that they were hard to ignore as I was reading. Now, I am not of the opinion that everyone is cut out to home school (or BE home schooled). Just like every child is different, so is every parent and we shouldn't place rules on what is best for everyone. (So my counter argument to those who don't think that home schooling is a valid option is that public schools are not for everyone and we should have the freedom and right to home school if we so choose!) For Wickham's family (and my own) – home schooling was the right option. It is clear to Wickham that home schooling was a naturally good fit for her. I feel the same about my own experience growing up. It was easy for me to identify with everything she shared and was saying.
I think books like Pajama School
serve an excellent purpose. I know a lot of home school parents (or perhaps the grandparents!) who crave encouragement that their children can and will turn out well. Think about it this way: as a parent we need validation and encouragement that we won't screw our kids up. A home school parent needs the additional encouragement that they won't screw up the kid educationally as well as emotionally! It's a hard road to commit to and books such as this one offer validation and confirmation that home schooled children can (and do!) turn out well.
This isn't a "You MUST home school OR ELSE" type of book. It is a testimony of one (and only one) home school grad who has enjoyed her life and her experiences, her family and her faith, and who is pursuing the best for her life. It is inspirational and interesting – probably particularly if you are thinking of home schooling or know a family who is. This book offers hope and therefore I am glad it exists.
Want to win a copy of Pajama School? Leave a comment below.
Our latest giveaway winner is:

Smart Mama's Green Guide: #5 Stephanie

If you didn't receive an email asking for your address, check your spam folder, but please contact us with your shipping info within the next week.
Feel free to enter our other current giveaways. Subscribe to our feed. Follow us @5M4B on Twitter. (These do not earn you extra entries, but we'd love for you to be able to stay in touch!)
Carrie comes by her book obsession honestly, having descended from a long line of bibliophiles. She blogs about books regularly at Reading to Know.