Hippopotamuses, Penguins and . . . Jack Hanna? Oh My!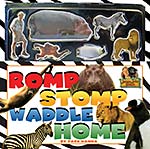 These children's books by Thomas Nelson are sure to delight any child who is an animal lover. Want to Romp, Stomp, and Waddle Home!
? This book comes with six magnet pieces (5 animals, 1 Jack). Each page is magnetized so that children can place the animals within the scene of the pictures. Each page spread gives follow-the-direction instructions as to where to put the animals. This book is playful fun. It's not informative so much as it's just a way for children to familiarize themselves through pictures and magnets what the animal habits look like in comparison to our own. This is a hefty book (i.e., it weighs a lot!). I was kinda surprised by that but it has proved to be quite sturdy and well-made.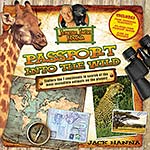 Passport Into the Wild
gives children a chance to (as the subtitle says) explore the 7 continents in search of the most incredible animals on the planet! The reader receives his or her own personal passport so that they can be cleared for travel. Stickers and foldout pages are also included. The book opens up with an introductory letter from Hanna to his reader, telling them what they can expect on their adventures. Upon arriving on any given continent, the reader is given important stats such as how big the continent is, how it ranks in size to the others, what the population is, and numbers of countries included within – to name a few. All of the pictures shown within the book are displayed "snapshot" style to give the book the look and feel of a travel journal. This book is much more informative. It's cleverly interactive, drawing the young explorer into the pages and giving them things to look at and think about. I really like the way this book has been put together.
Animals are always a popular subject matter in our house. We had fun with these two books and I suspect that any of your youngsters who had a passion for furry and exotic looking friends would also have a good time.
Carrie comes by her book obsession honestly, having descended from a long line of bibliophiles. She blogs about books regularly at Reading to Know.