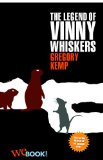 I really had no idea what was ahead of me when I picked up The Legend of Vinny Whiskers, beyond that it was a novel targeted at children nine and older and that it had to do with some prairie dogs. It sounded unique from the onset, and after turning the last page, I would definitely return to the word unique, and I'd add surprising, creative, and action-packed as well.
Gregory Kemp has given voice to the worlds of many a small mammal in this delightful story. I have to admit that I was a bit dense in the beginning, as the author does not outright state the setting, and apparently I was missing all the clues throughout the first part of the narrative (now obvious upon looking back). Once the light bulb went off, I was able to look at the story with new eyes, as the setting is one that is quite familiar to most of us, especially those of us with children. (But that's all that I'm going to say about that– we have a general no-spoiler standard here!)
I was really taken by the creative ways in which the mannerisms and personalities of the cast of animal characters were portrayed. Simply picture perfect, time and time again with each new animal. The story line is a classic one of many seemingly different groups coming together to work for the common good against the forces of the selfish bad guys. While that sounds somewhat simplistic, this novel is anything but. I think that different aged readers will take away a variety of messages from the story, with older ones being able to draw social and political parallels, while younger readers will most likely be caught up in the action and adventure. I'm thinking that this book will go on my almost-9 year old's reading list quite soon, and other than just a few body part jokes and mild expletives at the very end, I would deem it appropriate fare.
For an action-filled story complete with an underdog prairie dog hero, villainous rats and a lively cast of small mammal characters, The Legend of Vinny Whiskers is a perfect fit.
When Dawn's not reading, she's often blogging about her own three small mammals at my thoughts exactly.