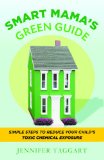 Becoming a parent brings on a whole new world of things to give thought to. Beyond the daily life changes (showering becomes optional in those early days, it seems), there are also the bigger picture issues to consider. Jennifer Taggart has put together a great resource in Smart Mama's Green Guide: Simple Steps to Reduce Your Child's Toxic Chemical Exposure, especially considering how confusing all the information out there can be.
With chapters focusing on certain home areas such as the kitchen, the nursery, and the bathroom, Taggart gathers and deciphers what is known about the toxicity of the available products that may very well be a regular part of your life. Other chapters give attention to the governmental agencies that are commissioned with overseeing the regulation of the vast amount of chemicals that are all around us, as well as giving wise advice in regards to lead and pesticide exposure.
We all want the best for our children, and with this book we're equipped with a collection of information that can help us to judge what types of products we want our children exposed to, and which we'd rather steer clear of.
Does this sound like a resource guide you just have to have?
Leave a comment here (just one comment per person, please!) for a chance to win a copy of Smart Mama's Green Guide (US and Canadian residents only, no PO Boxes please).
We'll announce a winner here on our next giveaway post on Wednesday, July 8th.
Our latest giveaway winners are:

Why Not Knot for Fun?!: #34 Kim
Ryann Waters and the King's Swords: #32 cris, #29 meredith, #42 Susan C

If you didn't receive an email asking for your address, check your spam folder, but please contact us with your shipping info within the next week.
Feel free to enter our other current giveaways. Subscribe to our feed. Follow us @5M4B on Twitter. (These do not earn you extra entries, but we'd love for you to be able to stay in touch!)
Dawn has an unbelievable stack of parenting books causing her shelves to sag. When she's not reading, she's blogging away at my thoughts exactly.