Healing Waters by Nancy Rue and Stephen Arterburn is not a novel that's easily described. I guess I could label it part mystery, part drama, part romance. Although it's the second book in the Sullivan Crisp series, it stands alone (so well, in fact, that I didn't realize it was part of a series until I was done).
The story is driven by three plots – a strained marriage, a widower's search for answers, and a tragic accident. Various subplots take us deeper into the lives and relationships between Sullivan, Lucia Coffey and her sister Sonia Cabot – three individuals in desperate need of healing.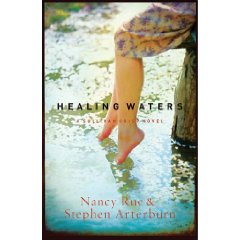 Sonia is a best-selling Christian author and singer at the top of her game when her plane crashes. She is burned beyond recognition, and her faith is put to the test. Sonia commands Lucia to come home with her and assist in the recovery process. Lucia, a nurse with no backbone, relents and leaves her husband (and tenuous marriage) behind. Enter Sullivan, Sonia's friend and Christian psychologist. He wants to help the sisters, but must face some questions about his own past before he can concentrate on the present.
There's a lot going on, but Rue and Arterburn do a fantastic job of pulling the reader in and keeping her attention for all 402 pages. I was more drawn in by this story than I have been by any other in quite a while. Healing Waters is a compelling read that will stay with me for a long time to come.
Melissa has been captivated by books for as long as she can remember. She resides in Virginia and blogs at Breath of Life.