When my oldest son was just five years old, my husband and I walked the aisles of a department store doing some last minute Christmas shopping, especially focusing on the stocking stuffers. When my lovely hubby picked up a package of rope, I thought he was joking, but apparently he was seriously considering stuffing our little kindergartener's stocking with some rope. To play with. Turns out that he was WAY more in tune with our son's desires in that moment, because come present time, that length of rope was one of our little guy's favorite gifts of all. Fast forward almost 4 years, and that same rope is dirty, cut into a few pieces, but still one of the most used outdoor 'toys' in our collection.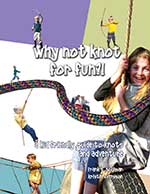 This is where the fantastic book Why Not Knot for Fun?! A Kid Friendly Guide to Knots and Adventures comes into play. I feel like Frank T. Hoffman and Kristin Svensson created this book specifically for my son, supporting his play with rope and sticks by introducing twelve useful and easy to learn knots. The history of knots and suggestions for practical (and playful!) uses of the knots abound throughout the book, and my son has been excitedly sharing with us all the little tidbits of info that he's read in here. This spiral-bound book is chock-full of photographic illustrations of the knots, as well as joyful depictions of kids at play using knotted rope in creative and constructive ways. In a time when our children may not have a whole lot of opportunities to simply play on their own in the outdoors, this book comes as a refreshing reminder of the joys that can be found with some natural materials, a length of rope, and some independent skills!
I love the spiral bound format personally, since I've been having a blast using the 7 foot piece of rope that accompanies the book to practice my own developing rope-tying skills. It's incredibly helpful for the book to stay open on its own while you loop and twist the rope into a hitch or bowline. (Look, I'm learning the lingo!) We even found that this was the perfect book to bring when we go out to eat, as our son stays lost in the world of knot tying until the food arrives, getting in a little practice and not even noticing that the waiting time is slipping by.
If you've got a child who adores outdoor play that involves sticks and a whole lot of creativity like a certain someone I know, Why Not Knot for Fun?! makes the perfect book companion to hours of exploratory play!
Interested in winning your own copy of Why Not Knot for Fun?! The creators of this fantastic guide book are offering a copy to one of our readers. Just leave a comment here to enter the giveaway (US and Canadian residents only). We'll leave the comments open through Tuesday, June 30th and announce a winner here on Wednesday, July 1st.
The winners of a couple of our previous giveaways are

Scatter Joy: #21 Angie
Mind Your Manners!: # 54 Erma

If you didn't receive an email asking for your address, check your spam folder, but please contact us with your shipping info within the next week.
Feel free to enter our other current giveaways. Subscribe to our feed. Follow us @5M4B on Twitter.
When Dawn's not clearing rope and sticks from her yard, she's blogging away at my thoughts exactly.