Peter Pauper Press has some pretty fun books, both for adults as well as for kids. Their stuff is just so imaginative, appealing and fun. They just have an exciting line of products. (We're all kind of big fans around here.)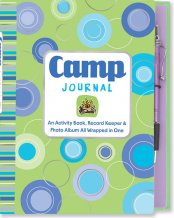 I never went to Camp when I was a kid but if I did, I would have created something that looked a lot like PPP's Camp Journal
. This book is awesome. If you have a kid who is going to camp this summer, or grandchild, and/or know of a special young person that will be, I heartily recommend you looking into this Camp Journal
. Hardbound, it comes with a pen, a special place for photos, and even has pull out postcards to send to friends and family back at home! (This thing is seriously cool.) Of course it has a place to keep your journal-ed thoughts, an address book to save the contact information of new friends, ideas for games, and pages to commemorate special things such as bunk beds and particular camp counselors. This interactive journal is a really good idea. It's one easy place to save a summer camp experience. It also contains practical things to use while AT camp, such as a schedule to keep track of where one needs to be and when, and a list of things one needs if they are going on a wilderness hike. I think this book is pretty cute and I can imagine a tween or teenage girl really getting into something like this if she is planning on a summer camp experience this year.

Another fun camping activity book is Whoo's There?
which is a "Bedtime Shadow Book." I've never seen anything quite like this. It is a spiral bound flip-up book which tells the story of a young girl who goes out at night and meets interesting nighttime creatures, such as an owl, firefly and a skunk. Instead of containing illustrations like a regular storybook would have, the book contains six transparent windows which, if you shine a flashlight on, will cast an image on your bedroom or tent wall. This is seriously cute, seriously imaginative and a seriously well-made book that sparks imagination and causes little ones to wait for dark or hunt for locations where they can play with light and images. I'm rather impressed.
If you haven't seen either of these books, look them up! They are really good for some summer fun. I bet you and yours will enjoy them! I'm off to grab a flashlight and see what kind of fun can be found . . .
Carrie comes by her book obsession honestly, having descended from a long line of bibliophiles. She blogs about books regularly at Reading to Know.