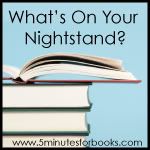 What are you reading this month? What did you just finish? Let us know. Tempt all of our reading tastebuds as you give us a list of what you're reading and why. Then visit around. You just might find a kindred reading spirit.
I THINK that Mr. Linky's troubles are fixed. I think that we are going to still go with leaving links in the comments for our other Tuesday community events to encourage non-bloggers to join in as well, but we need to use the Linky for ease in surfing the links for What's on Your Nightstand.
Link directly to your post below (not to your front page). If the Linky happens not to be there, then please link in the comments.
As always thanks for joining in, and come back for our upcoming Tuesday events:
Next Tuesday, June 30, is our I Read It carnival. Come back and share your reviews of books that you've read that were featured here or on 5 Minutes for Mom.
Check in with us on July 7 to see what our very first "comment carnival" is all about.
July 14 our Children's Classics topic is Field Trips (books that inspire a field trip)
Our next bookclub is Rebecca on August 4
We're thinking about using our off-month of September to add in another contemporary pick — this time we're thinking about Rooftops of Tehran. You can check out my review to see why I loved this book. If you think that you might want to join in, leave us a comment. We'll make a decision based on interest.
Check out our current giveaways. Subscribe to our feed. Follow us @5M4B on Twitter.