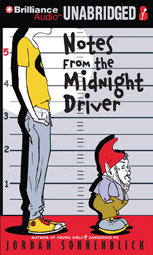 I've heard more than one glowing review of Jordan Sonnenblick's most recent works, including After Ever After (linked to Dawn's 5-Star review), so when I saw that Brilliance Audio was releasing backlist title Notes from the Midnight Driveras a brand new audiobook, I jumped at the chance to check it out.
I had the impression from other reviews that I had read that Jordan Sonnenblick wrote heartwarming stories, but for some reason, I thought that this one seemed edgier than the other titles. Why did I think that? Wellllll. . . . .
An editor's review at amazon.com opens this way, "While his mother is out on a first date, 16-year-old Alex decides to get drunk, steal her car, and drive to his father's home, hoping to catch him romancing one of Alex's former teachers. His goal? Revenge. Reality? A damaged car, a decapitated gnome, a drunk driving charge, and community service."
But the drunk-driving was a one-time out-of-character experience, and the community service that it led to indeed develops into the heartwarming story that I was hoping for. Meet Sol Lewis — a somewhat surly, definitely sarcastic resident of a nursing home whom Sol is assigned to spend time with as a condition of his community service.
Alex is not sure at all how he's going to learn something and much less teach Mr. Lewis something when Mr. Lewis has made it clear that he thinks Alex is a schmuck. So he writes the judge and tells her that he needs a new assignment, because there's no way that Alex is going to be able to learn something from Mr. Lewis, or teach him something, or learn a life lesson, which is the purpose of the community service assignment. But guess what? It does work.
Alex's jazz guitar and bringing his "friend" Laurie to meet Sol begins to loosen him up and they grow closer (and we all know that they are never really just friends in this type of book, right?).
It's a very sweet story. Alex does indeed learn a lesson (or two) from Sol. Sol's emphysema speaks the "don't smoke" message without needing to preach. Sol is sort of like a good coach who breaks down his team before building them up, and Alex is definitely a better person after knowing Sol.
It sounds like a stereotypical after-school special, but it actually rings very true. I love Alex's typical teen guy voice — a little insecure but funny and with that little glint of confidence that comes from the simple fact that teenagers always know best.
I recommend this not only for middle school and high school students, but for any adult looking for a little peek into a both a teen boy's head and an old man's life.
AUDIO NOTES: Peter Berkrot does a great job reading this book. It's not always easy to be a convincing teen voice, but Berkrot manages to voice Alex, the girl Laurie, and senior citizen Sol with equal interest and credibility. He made listening to a lovely story even more entertaining.

Jennifer Donovan might be addicted to audiobooks. She listened to two in the past week. If she's not plugged in, you might find her blogging at Snapshot.