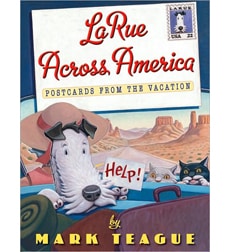 LaRue Across America: Postcards From the Vacation by Mark Teague is one of those intellectually smart picture books for kids (which means that parents are pretty likely to find it amusing too).
Ike LaRue, the cute dog featured on the cover, is a little bummed about his summer vacation. He and Mrs. LaRue were about to depart for a cruise to Mexico when their neighbor Mrs. Hibbins collapses from the heat and ends up in the hospital. Mrs. LaRue volunteers to take care of her 2 cats, but that throws a wrench into their vacation plans, because the cruise ship doesn't accept cats. Mrs. LaRue decides that all four of them will take a driving vacation instead.
Click through to 5 Minutes for Mom to read my full review and giveaway, which includes a copy of the book, a LaRue branded backpack and a $50 gas card.
Comments are closed here so you can read the full review over there.