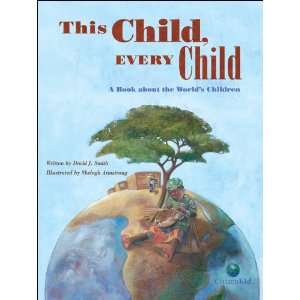 As a parent of a child in a middle (to upper) class area of the United States, an incredibly wealthy country by any standard, I feel some responsibility to raise my kids' awareness about children who don't have such an easy life.
Unfortunately, some recent items in the news have shown children in distress — either in war-torn countries or areas like Haiti and Japan devastated by natural disasters. We don't always want to talk to our children about these issues, but sometimes we have to.
In This Child, Every Child: A Book about the World's Children, a Citizen Kid book published by Kids Can Press, the tone is very informative — not written in a sensational alarmist way, instead just painting a clear picture (sometimes sad) of what different aspects of children's lives look like in many different areas including
School (and literacy rates)
Homes
Family
Health
Work
Play
War (okay, maybe that part was a bit sad and hopeless for me to read
This oversized 9 x 12 book has a large beautiful painted illustration on about half of the two-page spread. The other page has fairly dense text (but in a font that is just right for young readers) describing the topic. At the bottom of the page the article from the United Nations Convention on the Rights of the Child that pertains to that topic is highlighted in a box, written in child friendly language.
For example, in the section on work the article reads
You have the right to protection from work that harms you, and is bad for your health and education. If you work, you have the right to be safe and paid fairly (Article 32).
I'm not exactly sure who the target for this book is — definitely an older child, and perhaps one interested in world cultures or human rights. However, it has a valuable message to share.
What's more, 50% of all the North American sales profits will be donated to OneXOne, an organization committed to supporting, preserving and improving the lives of children in Canada, the United States, and around the world. The donation is being used to deliver books to children in Haiti.

I do have a copy to give to one of you (U.S. and Canadian addresses), but if you collect meaningful children's books, consider buying a copy of This Child, Every Child.
Leave a comment if you'd like to win, and we'll announce the winner on April 13.
The winners of Night Road are #87 Pamela S. and #47 Melissa N.
Check out our current giveaways. Subscribe to our feed. Follow us @5M4B on Twitter or on Facebook.

Jennifer Donovan counts the blessings she reaps simply because she was born in this part of the world everyday. She tries to have a thankful attitude in her posts at her Snapshot blog.