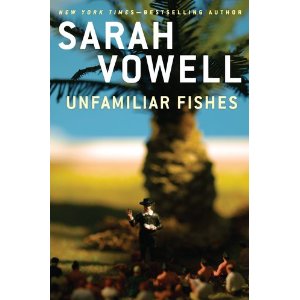 Sarah Vowell starts her treatise on American involvement in Hawaii by looking at the plate lunch ubiquitous to many restaurants on the islands. She looks at the glop of macaroni salad next to the shoyu chicken and reflects on the influx of Asian workers to man the sugar cane plantations, which were established by the children of New England missionaries. Both have changed Hawaii and Hawaiian culture beyond recognition. Vowell's readable history Unfamiliar Fishes
traces the impact of both, although it focuses on the Americans, in particularly those who came to share their faith.
Vowell takes a clear-eyed look at America, and manages to see both the bad and good, although her opinion is clear. Referring to her own background, which includes Swedish peasants who befriended Italians on ship, and Cherokees who were marched at gunpoint to Oklahoma on the Trail of Tears, she writes: "Growing up, I came to know America as two places—a rapacious country built on the destruction of its original inhabitants and a welcoming land of opportunity and generosity built by people who shared their sausage and their cheese."
Vowell's tone is often personable; this isn't a dry tome, but a retelling of her own experiences and interactions with the historical artifacts, writings, etc. She doesn't just list facts; she adds in her own snarky comments. I also appreciated that she is open about her own bias, and doesn't whitewash even those with whom she's sympathetic.
Ancient Hawaii was a fascinating place, with people deeply connected to the land and their story of it, but also full of bizarre and bloody practices. For example, women were not permitted to eat bananas (phallic, you know) and a host of other foods, and men and women did not eat together. Breaking this taboo meant death for the women, often by being thrown off of cliffs. The king and queen were ideally brother and sister, since the royal house was regarded as deity and therefore should not intermingle with commoners. Naturally, these incestuous relationships rarely produced offspring, although any survivor was doubly-powerful, doubly-blessed and even those who stepped in his or her shadow were deserving of death. The king would usually need to have several wives, the main one being his sister, but others being the actual mothers of his children.
Ironically, Kamehamaha had barely managed to conquer and unite the islands before the arrival of the white man. First came the missionaries, who brought with them their own New England culture and ideals along with Christianity. They expected the people of a tropical climate to dress in the overly-modest clothes of a New England winter. They also brought the written word, and created the Hawaiian alphabet and published Christian writings and hymns as well as accounts of national history in Hawaiian. They established schools and brought about an enormous change in the level of literacy. They therefore preserved the culture at the same time as they were instrumental in its change.
The missionaries were not the only new inhabitants of the islands. Sailors and whalers also came, with no interest in the culture beyond what they could exploit of it. They clashed horribly with the missionaries; there are accounts of whalers firing cannons at preachers who are denying them their "right" to Hawaiian prostitutes! Yeah. It's a messy history.
The culmination comes with the children of those first missionaries. Born and raised in Hawaii, with apparently none of their parents' altruistic concerns, their history is one of naked greed and finagling to gain purchase of the Hawaiian islands and their rich sugar plantations and real estate. They are clever and ruthless, biding their time until the right US president (McKinley) would agree to annex the territory. It is tragic to watch Hawaii's last queen, Liliuokalani, coerced into signing an agreement to save the lives of her supporters. It is ironic that the sentimental song she wrote while locked up, "Aloha 'Oe," serenaded the first Hawaiian-born US president over 100 years later.
Unfamiliar Fishes
is a fascinating look at a place and time lost to the present. It's a worthwhile read for anyone who's interested in culture, history, the Hawaiian Islands, or America's forays into colonialism.
Elizabeth has visited her in-laws on Hawaii's Big Island several times and she has fallen under the sway of the Islands. Learn more of her travels at her blog Planet Nomad.