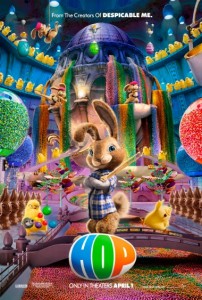 If you've turned your television on in the last few weeks, odds are you've seen a trailer for the movie HOP, opening in theaters nationwide 4/1. With Easter fast approaching, the image of that seriously adorable bunny is appealing to both kids and adults alike, and I know that I'm one parent who has been dealing with excited children waiting for their opportunity to head to the theater.
Having attended a screening of the movie before its release, I can honestly say it's a fun family flick, and I know that my children will giggle with delight over the spectacular eye candy in the form of amazing visual displays, to use a more-than-appropriate expression. With humor that will reach children and still evoke true laughter from the adults who brought them, HOP should endure as a beloved family film for much longer than just the Easter season.


While my kids have been waiting for the movie to entertain them, we've been having fun with some of the movie tie-in books. For the youngest set, board books like Counting Chicks and Hoppy Bunnies offer brightly colored illustrations and cute stories involving some characters from the movie.


Preschool and early elementary school aged kids don't get left out, either. Meet the Easter Bunny is at the "beginner reader" level, presenting a shortened version of one aspect of the film, complete with adorable, cartoon-like illustrations that portray the Easter Factory in all its deliciousness. With more text and fewer illustrations, kids can go for Hop: The Chapter Book, which tells more of the movie's storyline in a format appropriate for elementary school readers.
Thrillingly, I was recently able to attend a screening of the movie HOP, as well as represent 5 Minutes for Mom in a parenting blogger roundtable interview with James Marsden, Russell Brand, and Kaley Cuoco, stars of the movie. We also had the opportunity to chat with Tim Hill, director, and Chris Meledandri, producer. The excitement of the entire experience was much too much for just one post!
Today over on 5 Minutes for Mom, you can read about our interview with Russell Brand, voice of the adorable E.B. and the most hilarious man I've ever had been in the same room with in my post Russell Brand, What a Firework!.
There's also a fabulous prize pack up for grabs, so be sure to check it out!
For even more of my adventures, please read:
Disclosure: Universal Studios paid my expenses to attend the press junket for Hop, but any opinions about the experience or the movie are completely my own.
Like books? Check out our current giveaways. Subscribe to our feed. Follow us @5M4B on Twitter or on Facebook.
Dawn and her kids love both books and movies, and we're all HOPping with excitement for this release! Their adventures are chronicled on her blog, my thoughts exactly.