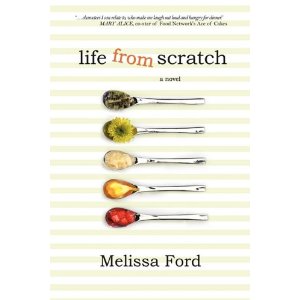 While I don't have any personal experience with it, I can imagine that the first year post-divorce is a tumultuous period of reflection and emotion. In Melissa Ford's debut novel Life From Scratch, readers meet Rachel Goldman, a woman in this exact situation ready to carve a new path in her life. This path involves a significant shift in lifestyle, one that excludes ordering in dinner every night. As much as she feels completely unprepared, Rachel is going to teach herself to cook.
Armed with library books and fueled by the need to find something that is all her own, Rachel begins her quest, documenting her efforts in a highly self-deprecating and humorous blog, as well. Her posts often open chapters, brief snippets of her perspective on the complete mess that is her life. As she tries re-entering the dating world as well, she realizes that her feelings about her divorce are perhaps not as dissipated as the had first thought.
I enjoyed the blogging aspect of the novel, from her actual posts to the "technical talk" in the story about building a platform, reacting to comments and learning to track one's stats. There's an authentic feel to this component, as Melissa Ford is a well-known blogger herself, author of the popular blog Stirrup Queens. Readers who also blog personally, even those of us with very modest online followings, will laugh in recognition at some of Rachel's blogging experiences and behaviors. (I certainly did when she discovered the joy that is a stat tracker!)
Witty and written in a tone that will definitely resonate with bloggers as well as readers who enjoy female character-driven contemporary stories, Life From Scratch is a fun novel with characters who feel real from the get go.
Dawn's got very little cooking skills of her own, but in her head, she's a popular blogger herself. Decide for yourself- at my thoughts exactly.