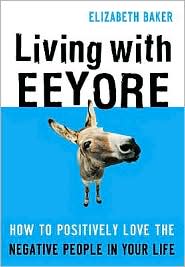 Living With Eeyore
: How to Positively Love the Negative People in Your Life does, as you might have gathered, take some liberties and examples from Winnie the Pooh and his friends. Author Elizabeth Baker, PhD, talks about how to deal with the people in your life who might be a bit more negative and downtrodden than your personality might feel comfortable with. She addresses things like how to think of them (find their gifts and qualities) how to talk to them (without trying to thrust your Will for Happiness upon them) and, basically, how to love them as they are. She points out the greater attributes of an Eeyore personality while also acknowledging that some negative personalities are just that – negative AND unhealthy! She talks about ways to identify whether or not someone is "just" an Eeyore who who is truly in need of medical help.
I have an Eeyore in my family and I am prone to such attitudes myself (particularly around That Time of the Month). There are times when I'm quite certain that nothing in life could POSSIBLY turn out right. If I think about those times, I am quick to acknowledge that someone who wants me to happy isn't going to succeed in their endeavors to make me so just because they are. Time, space and sensitivity in those moments are a must. Personally, I'm quick to bounce out of such moods and do a better job getting out by myself than with the help of someone shoving a smile down my throat. It's a pretty good idea to treat the Regular Eeyores – the ones who make a life out of exemplifying blue donkey traits – with the same respect I want so badly myself when I'm feeling a little down.
In some ways this book is common sense and in others it's a good reminder, with some good tips!, of how to treat those who aren't floating along on clouds. Those Worst-Case-Scenario people still need some lovin' and Baker is just here to offer some suggestions on how you might go about giving them exactly that – with their boundaries in mind and not yours.
Carrie comes by her book obsession honestly, having descended from a long line of bibliophiles. She blogs about books regularly at Reading to Know.