I haven't always been a baseball fan. Then my daughter started playing softball last year and fell in love with the game. She watches major league games several times a week, and I'm usually watching with her. I developed an appreciation for this sport I'd long ignored.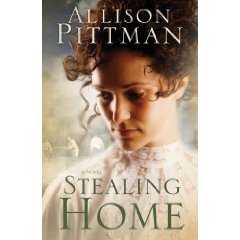 Given my new found interest in baseball, I was excited to read Stealing Home by Allison Pittman. Set in 1905, it's the story of Duke Dennison, Chicago Cubs catcher and a recovering alcoholic. After being released from rehab, Duke finds himself in small town Missouri to further his recovery in secret. He is the house guest of town Sheriff Floyd Voyant and his peculiar daughter, Ellie Jane.
Ellie Jane has grown up in Picksville, and is the subject of much gossip and superstition. She has unknowingly captured the heart of Ned Clovis, a childhood friend who was struck deaf by illness as an adolescent. Ned's closest companion is 12-year old Morris, a negro boy dreaming of life outside of the small town.
The four main characters are very different, yet they are alike in their isolation. Duke has practically been exiled to Picksville (a dry town) to straighten up his act. Ellie Jane spends her days inside a small ticket booth at the train station, a glass partition protecting her from the townspeople. Ned cannot break the silence that engulfs him and separates him from Ellie Jane. Morris doesn't fit in with the whites, yet wants to escape the inevitable future for a black man in this town. Baseball brings them together, and ultimately tears them apart.
Stealing Home is a beautifully crafted story about breaking away from labels and expectations, and daring to pursue a dream.
Melissa's spending much of her summer on the ball field. She resides in Virginia and blogs at Breath of Life.