Jane Yolen is one of those authors. She does it all. I've recently heard a lot about her book on the writing craft, Take Joy. I've purchased it, but haven't had a chance to read it yet.
A year or so ago, some cute Hippo Board Books came across my desk. I recently saw an advanced copy of Dragon's Heart, the fourth volume in the Pit Dragon Chronicles for middle grade readers, which I haven't read.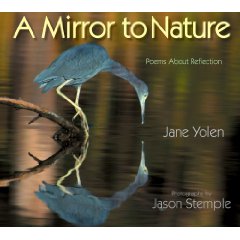 She writes everything.
But when I think about Jane Yolen, I usually think of picture books — picture books with rhyming text, mostly.
A Mirror to Nature: Poems About Reflection is part of a series that she collaborated with on her son. He provides the beautiful photos and she provides the simple, yet instructive text. This book seems more appropriate for the older reader than the one on shapes,* although the poems in each are not sing songy rhymes. A child interested in photography or animals will find this a particularly beautiful book.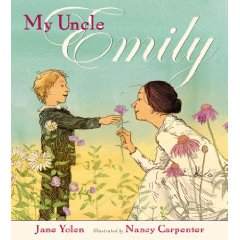 My Uncle Emily reminds me a lot of her picture book on Johnny Appleseed**. They both tell the story of a real historical figure in a somewhat mythical way, specifying the basis of fact. What a great way to introduce children to historical figures!
This book profiles Emily Dickinson, as seen through the eyes of her young nephew Gib. The drawings and colors used take the reader back to the old-fashioned era in which the story is set. But the themes are modern ones that many children could relate to: the issue of bullies, being different, and telling the truth versus lying.
For other poetry recommendations, scroll through the comments in our recent Children's Classics Carnival focusing this month on poetry.
Don't believe me that Jane Yolen writes everything? In addition to books aimed at adults, toddlers, older chapter-book readers, and younger school-aged children as mentioned in this post, check out these links to past reviews that I dug up:
Jennifer Donovan also blogs at Snapshot about her love of books and her family.