I don't know about you, but I (Jennifer), love to give books as gifts. Over the next couple of months, high schools and colleges will be having graduation ceremonies to celebrate that next step in the life of young adults everywhere.
It is likely that most of us know someone celebrating this landmark, be it a babysitter, family friend, or niece or nephew. Books are an inexpensive yet thoughtful way to give them your best wishes.
Here are some of our suggestions, and we invite you to leave yours as well.
JENNIFER

If you've followed my personal blog or read this one, you know that I am a BIG fan of Scaredy Squirrel. One time I was talking with an independent children's bookstore owner about our mutual love of the little rodent, and she actually told me that she recommends it for graduation and always makes sure she has some on hand in May. I loved that idea, and while I haven't bought one for the graduate, I have purchased a couple for other people facing big changes in life.
My husband's aunt gave him the Better Homes & Gardens New Cookbook, and it has served us well. It's the kind of book that you can look up recipes for basics like pancakes, muffins, mashed potatoes, and meatloaf, as well as general cooking times for meats and vegetables. I don't know if "kids these days" are cooking, but everyone who is living independently needs a good go-to cookbook, whether they think that they do or not.

NANCY
When Jennifer asked for input on this post, Oh, the Places You'll Go! by Dr. Seuss was the first book to pop into my head. It's inspirational, in the usual whimsical way, and great for anyone entering a new phase of their life. It's also a reminder that even those who are itching to get going in life can always use some Dr. Seuss.
DAWN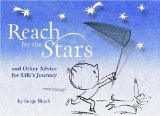 With a little bit of humor mixed with its understanding and inspirational words, Reach for the Stars: and Other Advice for Life's Journey by Serge Bloch is a welcome addition to a gift bag for a recent grad. Throw it in there with several rolls of quarters for those heading off to college and its dormitory laundry rooms, and you'll be majorly popular!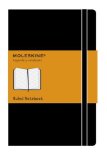 As I look back to the times in my life of change and great transition, like graduation from both high school and college, I remember how I was a swirl of emotions. I have a few composition notebooks that were put to good use as my journals at the time, serving as a release for those emotions as well as a documentation to look back upon all these years later. Why not give a grad a blank journal to record their own thoughts? You can't go wrong with a Moleskin Notebook- sturdy enough to last and "generic" in appearance to be attractive to both genders. (No "diaries" here, don't worry.)
What are some favorite books that you've given (or that you received) to mark graduation?