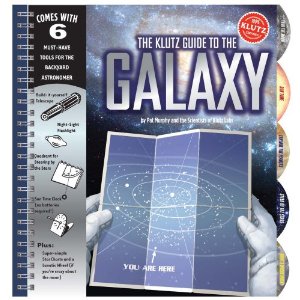 At what age do you outgrow Klutz books for kids? 12? 15? 40? At our house anyway, no one is in any danger of that happening.
I think most people are familiar with Klutz books. They're known for their layouts and bright colours, which pull their readers in, for being jam-packed with lots of facts and information, and for their great sense of humour. They always come with hands-on applications and materials, taking their topics from the theoretical to the practical, and ensuring that kids will be involved with their subject.
The Klutz Guide to the Galaxy
is an excellent example of all that Klutz does so well. Packed with information about astronomy, the planets, constellations, and our galaxy, it includes kits to build-your-own sundial and a very cool working telescope, charts to figure out how old you'd be on Mars, and other fun additions. There's a Tourist Guide to the Moon, and a map of the galaxy (with the prerequisite "you are here" annotation!). There are the phases of moon, illustrated, and the "phases of Dave," also illustrated (My favorite was waxing gibbous Dave).
There are travel guides for the other planets (hint: you pretty much always have to pack your own oxygen) and instructions for how to navigate by the stars, along with star maps. There are instructions on how to test your night vision, which begin: 1. Drink a big glass of water before going to bed. 2. When you have to get up to go to the bathroom… There are instructions for telling time using a sun dial or using shadows, and explanations as to the difference between magnetic north and true north.
All this information is contained in a spiral-bound kid-friendly package. And, just between us, it comes in pretty handy for adults who want a fun and easy way to brush up on all that stuff they used to know, before they had to fill their heads with boring information like where their car keys are, and what time their kids need to be picked up.
It's tempting to write about all that is included in The Klutz Guide to the Galaxy, but you really should just get your own copy. It's educational fun for everyone. You can see some of the inside page spreads at the Klutz site.

And guess what? THREE of you get to win your very own copy! Lucky you! Leave a comment below to be entered to win (U.S. residents only). The giveaway is open until 5/11.
Elizabeth still has a ways to go before she outgrows Klutz books. Read more of her infantile pleasures at her blog Planet Nomad.
Check out our current giveaways. Subscribe to our feed. Follow us @5M4B on Twitter or on Facebook or YouTube.