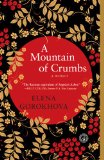 My husband visited Russia in the late 90s, and was talking with a man he met there. At one point, the man said, "We were taught we were the happiest people on earth, but what we didn't know was that we were actually the saddest."
This quote kept running through my head as I read A Mountain of Crumbs: A Memoir
, Elena Gorokhova's memoir of growing up in Leningrad, the Soviet Union, during the 60s and 70s. The title comes from a family story during the famine that overtook Russia in the 1920s. Elena's uncle, then 3 years old, cried when given only a crust of black bread and a sugar cube to assuage his hunger pangs. Her grandmother crumbled both into small hills, and presented him with "two whole mountains" to fool him into thinking he had plenty. By the time the author herself is five and in nursery school in 1961, that pretense of plenty has become national policy.
The theme runs through the book, a fascinating glimpse of childhood and young adulthood spent behind the Iron Curtain, which would only occasionally flutter aside to offer tantalizing glimpses of the wide world beyond. Elena learns English, a provocative and rebellious choice, then is allowed to meet visiting English and American students. She has heard wild, unbelievable tales of the decadent West, of places where you can just buy books and there are strange things like "shrimp" or "asparagus." Neither she nor her English teacher can figure out exactly what the word "privacy" means in one of her English-language texts. She meets an American who offers to marry her and get her out; her friend ends up fired from her job for not reporting that she was considering a capitalist marriage. In a telling moment, she describes her new husband fumbling over which hand to put the ring on (they use the right hand); later, he laughs and says, "What would (the officiant) have said if I'd put the ring on your left hand?" Elena writes: "Only someone who wasn't born here could think of such a bizarre thing, such a deliberate flaunting of the rules. But since I know Robert…cannot understand how impossible this thought would be to any of us here, I pretend I am considering the option."
Elena describes growing up with two personas; the public, party-sanctioned one, and the private, cynical person, that dutifully joins the Young Communist Party (and indeed, has no choice but to join) and lines up for scarce toilet paper under a banner that reads "Thanks to the party for the people's welfare." She calls it all a game of vranyo, pretending, a game which is played by everyone in the country; "My parents play it at work and my older sister Marina plays it at school. We all pretend to do something, and those who watch us pretend that they are seriously watching us, and don't know we are only pretending."
Elena also narrates the story of her mother, who was a front-line surgeon during WWII and was married 3 times. She sees her mother as an echo of her country; overbearing, protective, difficult to leave. Yet at the end, the two have reached a peace, and have a good relationship.
Although in many ways, life in the USSR is colourless and difficult, there are still moments of joy. This is the story of a life, and I enjoyed reading of classmates with perfect blonde braids, of precious memories fishing with her father (who died when she was 10), of the delight of home made raspberry jam licked from the bowl or mushroom hunting with her mother and sister. Although the government is always in the background, this is still the story of a girl dealing with concerns and questions common to all people in all nations. Is she intelligent? What does it mean to be in love? How does one balance family, duty, and personal desire?
A Mountain of Crumbs: A Memoir
is a fascinating book, so much so that I wrote a second review to contain all I wanted to say about it. If you enjoy memoir, if you're interested in life in Soviet Russia, or if you're simply looking for a good read, I highly recommend it.
Elizabeth hasn't been to Russia yet, but she does have a set of painted cups that match the cover of this book. Read more about her travels, and other things, at www.planetnomad.wordpress.com.