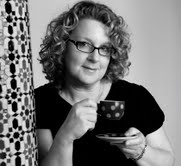 Elizabeth has been a frequent commenter on our book reviews for quite some time (and for a while there, she was on a roll as a lucky winner as well), which brought me over to her lovely blog, Planet Nomad. She is a thoughtful communicator and beautiful writer. I am pleased to announce her as the newest member of our team.
She reads widely. Look for upcoming reviews of detective fiction, suspense, literary fiction, memoir, biography and other nonfiction. Her first review, Mountain of Crumbs, is up today.
Her official bio (as well as that of our other contributors) can be found on our About Us page:
Taught to read when she was 4 by two older brothers who were tired of reading to her, Elizabeth read her first "real" book (The Lion, The Witch and the Wardrobe) at age 6 and hasn't stopped reading since. She was the type who took 14 books in the backseat for a two hour drive, and she still takes a book with her everywhere, just in case. She is an omnivorous reader, devouring fiction, classics, memoirs, literary criticism, and more.
Elizabeth also loves to travel. In 2001, she moved with her husband and 3 children to North Africa, where her children grew up attending school in French and camping under the desert stars during school breaks. She has taught English in 4 countries. She has 3 teens and currently lives with her husband, a photographer, in Oregon.
Follow her adventures adjusting back to life in the US, parenting teenagers and working with Iraqi refugees at www.planetnomad.wordpress.com.