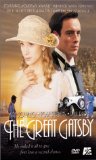 Earlier this week, we hosted the latest round of the Classics Bookclub, and we submerged ourselves in the Roaring Twenties with F. Scott Fitzgerald's The Great Gatsby (linked to the Bookclub post). I thought this would be the perfect opportunity to try my hand at at Books on Screen post, though given my history of negative emotion toward movie adaptations of books that I hold dear, I wasn't sure where the post would take me.
I knew that the love of my mom's life, Robert Redford, had portrayed Jay Gatsby on the screen all those years ago. However, I soon found, with great shock, that my public library didn't hold even one copy of this classic film. Another surprise came when I saw that the folks over at A&E produced an adaptation of the novel about eight years ago. Although at first glance, the headliner names may not seem fitting (Mira Sorvino as Daisy and Paul Rudd as Nick), I personally found them simply perfect. The role of Nick as narrator is retained in this film, which I've read was not the same set-up for the original 1974 version.
Overall, my impressions of the characters were well represented on the screen. Nick's discomfort is apparent, and Daisy's shallowness shines through in this performance. I found Tom to be even more painfully overbearing and oppressive, as oppressive as the heat that is thick throughout the story. The images are beautiful, of course, everything being lavish and lush, but the lack of any depth to the setting and the people is retained. It seemed to me that there was a subtlety to the novel, with things left to the imagination a bit, but the movie is a bit more in-your-face about the relationships and the main characterizations.
While I can't speak for the earlier version, I can recommend A&E's production of The Great Gatsby as a solid representation of this classic story. Unless, of course, you're supposed to be reading this book for school. In that case, put down the remote and pick up that book!
Dawn's online life revolves around books, babies (who are growing up way too fast!), and blogging. Stop by my thoughts exactly for a peek into the glamour.