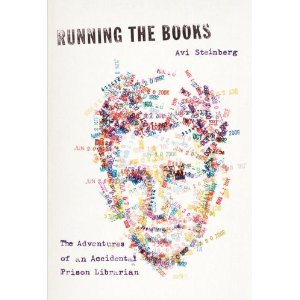 When I first posted about receiving Running the Books: The Adventures of an Accidental Prison Librarian by Avi Steinberg, several people thought it looked interesting.
We don't usually post reviews that are negative, because we'd rather use the space for recommendations. However, since the title piqued the interest of many, I thought I'd share my thoughts, which are pretty far from a recommendation.
I think that the main reason that I didn't like this as much as I had hoped is because prison life is hopeless and sad. That's no fault of the author, and I suppose that many who are reading it would want to hear the honest truth about life on the inside.
The book is really a series of vignettes about prison culture from the workers to the inmates. Some were interesting and unexpected and others were about what you'd expect.
The publisher's description hints at these elements:
"Running the Books is a trenchant exploration of prison culture and an entertaining tale of one young man's earnest attempt to find his place in the world while trying not to get fired in the process."
I always enjoy the self-realization that generally accompanies a good memoir, but this one — though it's a hefty 400+ pages — did not go the distance. We do hear a little bit about what brought Steinberg to the library job, but I wanted more. I enjoyed hearing about his orthodox Jewish background and how he had diverged from that path, but as far as his "earnest attempt to find his place in the world" — I didn't find it, and it definitely would have made for a better book.
If you are looking for an honest look at prisoners and prison culture, check out this book. If you are looking for the self-exploration and realization that a good memoir has, this book just didn't deliver. It also didn't have as much about the role that books or the library itself as I hoped/expected it to.
Jennifer Donovan has decided that there are some things about which she doesn't need to know more — prison being one of them. She blogs about simpler things are Snapshot.