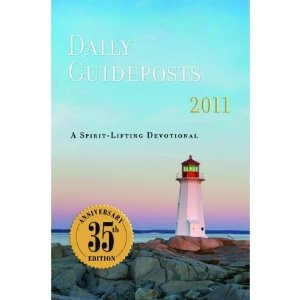 Back in November, we offered a giveaway of Daily Guideposts 2011 over at 5 Minutes for Mom. We're happy to have the opportunity to offer another giveaway to one of you here.
As part of my routine, I study the Bible every day, usually at night after my kids are in bed. However, I also like to take a few minutes in the morning to focus my thoughts and start the day moving in the right direction. During 2011, I plan to use the Daily Guideposts 2011 devotional book to help me start my day off right. Daily Guideposts contains short inspirational pieces for each day of the year. The theme for this year's book is Growing in Love, and each day includes includes a Bible verse for reflection, a true, first-person story, and a brief prayer.
Normally, I read an entire book before I write a review. As this is a 2011 devotional that I plan to use, I did not read it word for word, but I will share what I like about it. Each day's message is contained on one page. They are brief, and easy to read in only a few minutes. Although the passages are short, they are thought-provoking, meaningful, and personal. The devotionals are written by 55 different contributors, each with different life experiences. I especially liked that the book includes a section with biographical information on each of the authors. Finally, there is a space where you can write some short thoughts of your own each day. I recommend this book for its inspirational message and for its ability to direct the reader's thoughts in a short period of time. While I believe everyone should take the time for in-depth study, we all need some quick refreshers each day as well.
Daily Guideposts is in its 35th year. This devotional book is a perennial favorite, and it would make a great gift for any Christian, especially someone who is constantly on the go (this would be a great book to keep in the car to read when picking up kids or during lunch break). I know that as a busy mom, I appreciate the opportunity to think about what is most important, and with these short pieces, I can refocus in only a few minutes before I start my day.
We have a copy of Daily Guideposts 2011 to give to one of you. If you would like to win a copy, please leave a comment on this post. We'll announce a winner on February 9.
Want more of Guideposts? Now you can follow them on twitter (http://twitter.com/guideposts_org) or Facebook.
Lauren is a wife, mother of two, and an avid reader. Lauren blogs at Baseballs and Bows.
Check out ALL our current giveaways. Subscribe to our feed. Follow us @5M4B on Twitter.