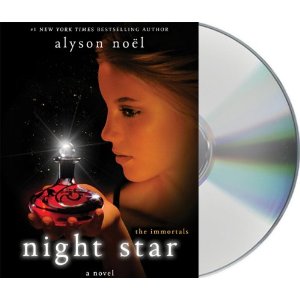 There are things I like about books series, and things I don't like. As a parent and an advocate of reading (for people of all ages), I like that someone can pick up a book, like it, and know exactly where to turn to find their next read if there are other books in the series. What I don't necessarily like is that sometimes when one gets deep into a series — as I am with the YA Immortals series by Alyson Noel — the reader gets a little impatient, and to be honest, sometimes the author drags it out a bit.
I did feel a little bit like book 3 (Shadowland) read a little bit like "filler" to an extent, but book 4 Dark Flame came back with an entirely new obstacle that Damen and Ever had to overcome.
The sixth — and final — book is set to release sometime in 2011, and Night Star, the fifth book in the series, just released in November.
(Warning, there are some mild spoilers below if you haven't read the whole series, so just scroll down and leave a comment if you'd like).
Even though I'm really ready to see how the whole drama is going to play out (and thus ready for it to be over already!), Night Star, as read by the fabulous Katie Schorr, kept me guessing. Jude is back in the picture, and the central crisis for Ever is who she is really supposed to be with. Haven is also keeping her busy as she is determined to avenge Roman's death, while Ever is still trying to figure out how to get the antidote.
I recommend The Immortals series for teen readers (and listeners), but if you are looking for something for your younger tween reader, check out my review of the first book about her younger sister, Riley — Radiance. I loved it.
Since this book is definitely a part of a series, and one you wouldn't want to just pick up here in this 5th installment, MacMillian audio is offering book one on CD, Evermore: The Immortals (check out my review of the first two books HERE), as well as the newest release, Night Star (The Immortals) to one U.S. winner. The first CD can get you going if you are new to the series, and you'll have the latest installment beckoning you to finish.

Just leave a comment here if you'd like to win. We'll announce the winner on 12/29.

Check out our current giveaways. Subscribe to our feed. Follow us @5M4B on Twitter.