Even before I had kids of my own, the odds were that when I went into a bookstore, I'd end up in the children's section. Once there, I'd pass by the novels and chapter books pretty quickly, take a good look at the picture books… then before long, I'd be in front of the children's poetry books. Soon, I'd be reading and laughing and lost in thought and happy and wondering why all the customers in the store weren't right there with me.
You see, I don't think that good children's poetry is for children only. Oh, sure. . . it's written for them, but cupcakes are intended to be for kids, too, you know? I grew up learning and studying classic poems in school, and I've read remarkable works by contemporary poets, as well, so I'm not talking about children's poetry at the exclusion of other work. But I find something absolutely magical in the best poetry written for kids – that wonderful poetic ability to see and explore the world freshly, to find humor and truth and express it through perfect words perfectly placed… plus I've seen the remarkable impact the poetry has on its target audience (which, I begrudgingly have to admit is not me).
A couple years ago, I became a volunteer elementary school librarian, and I decided that before every read-aloud book, I'd read a poem, too. It's been a blast, mostly because I love the reactions the poems get from the kids. I see them laughing at unexpected turns of phrase, clever observations, or hilarious images. I hear them ooooohing at a thought provoking situation or gasping with recognition at a poem as if to say "hey, was the poet watching me?" I've had children come up to me weeks after hearing a poem and repeat it nearly whole because it stuck in their heads and rattled around.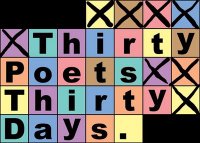 It's not as if every poem clicks with every child, of course, but quite often I've found that there simply was no familiarity with children's poetry at all. Yet there are so many talented people writing poetry for kids today, delivering a whole range of work from the simple and silly to the thought provoking and lyrical (and sometimes combining them all). So this year, to celebrate National Poetry Month and feature at least a fraction of the different voices out there, I put together an event called 30 Poets/30 Days hosted at my blog (http://gottabook.blogspot.com). I think it's going to be a great time.
For the event, every day in April, I'll be posting a previously unpublished poem by a different children's poet. The 30 poets participating this year (including the former and present Children's Poet Laureates Jack Prelutsky and Mary Ann Hoberman, Douglas Florian, Pat Mora, Nikki Grimes, Jane Yolen, Linda Sue Park, and many, many more) have published over 700 books for children and teens, and the poetry promises to be wonderful.
I'd love to hear if you already have favorite poems/poets. . .and if the month ahead ends up adding new names to your list. I encourage everyone to come visit and read a poem (or all of them) to or with a child. But if you don't happen to have a child handy, well hey. . . come on out anyway. I know I would.
Greg Pincus writes poetry and talks about children's literature at his blog, GottaBook (http://gottabook.blogspot.com). He's working on a novel for Arthur A. Levine Books, and is thrilled to be hosting 30 Poets/30 Days this April.