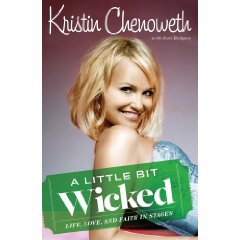 I almost feel as if I have to justify my reading of this book. After all, this is a serious book blog, right? So it just feels right to start off this review with the confession, "Yes, I read this celebrity autobiography of Kristin Chenoweth."
But you see, she's a Southern girl, she's been outspoken about her Christian faith (which has gotten her criticized for her liberal views by the ultra-right and criticized by her gay fans for aligning herself with homophobes), she starred in the West Wing, one of my very favorite TV shows, and she also originated the role of Glinda the Good Witch in Wicked, my very favorite Broadway show (which I reviewed here). So if I need "excuses," there they are.
Honestly, it was hard for me to get through the first couple of chapters. It was a little too cute and chatty for me, and she seemed to jump around a lot with no real chronological or topical order to what she was sharing. But about 2/3 of the way through, I realized that it reads like a real friendship unfolds. We don't hear someone's whole story from high school, college, early adulthood to the present day. We pick up bits of a person's life and experiences here and there. It's sort of like mining for gold: In the "sift, sift, sift" of everyday conversation suddenly a gold nugget about a past love or a life-changing mistake is uncovered and you see that person in a totally new way.
This is not a tell-all biography. It's not really a memoir either. It's just a bit of her story, centering on her professional career as a stage, television and movie performer. I wish that there had been more details about the rigors of performing eight shows a week on Broadway. I wish that she had opened up a little bit more about what it felt like to perform.
But in general, it's what you want a celebrity biography to be. It's honest, it's funny and easy to read. It also features a supporting cast of the people she's known in the biz and some behind-the-scenes stories that only someone who was there would know.
A Little Bit Wicked: Life, Love, and Faith in Stages releases mid-April, but as always you can get a great pre-order price at amazon.
Managing Editor Jennifer Donovan also blogs at Snapshot about her life in Connecticut, where she caught Broadway fever, and occasionally about her love of less literary pursuits such as television.