I watch very little television—I usually have my nose in a book. Recently, however, my husband was travelling, and I stumbled upon two different reality shows: Jon and Kate Plus 8 and 17 and Counting. Wow! I have a difficult time wrapping my brain around the challenges (and blessings) that come from raising so many children. Because both shows fascinated me, I decided to read more about the families in their respective books Multiple Blessings: Surviving to Thriving with Twins and Sextuplets and The Duggars: 20 and Counting!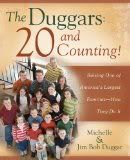 The Duggars: 20 and Counting!, written by Michelle and Jim Bob Duggar, tells the history of the Duggar family. The book begins with Michelle's and Jim Bob's backgrounds and teen years, shares how they met, describes the early years of their marriage, and continues to the present. The book includes pictures, recipes, and even input from some of the older children. Some chapters include information about how they stay organized, the materials they use for homeschooling, and samples of their daily schedules. Both Jim Bob and Michelle are very candid about the struggles they have faced through the years. If you have ever seen the show, you know Michelle is very soft-spoken (she never raises her voice). Her life as a mother, however, has not always been smooth sailing. In the book, Michelle shares that she was often exhausted and shed many tears when she had five under the age of five. Jim Bob shares some of the lessons he has learned in his marriage and in parenting as well, and I appreciated their honesty.
Whether you have one child or 18, whether you homeschool or send your kids to public school, I think the Duggars' story is relevant, and there are many tips included in this book that can be applied to all types of families. Most inspiring is that the Duggars are debt free. While my own family values debt-free living, it is truly amazing that a family of 20 is committed to paying cash for everything (they even went without an air-conditioner for several summer months in Arkansas until they could pay cash for one—that's commitment). Considering our current economic problems, our nation could learn from the Duggars' frugal example!
I recommend The Duggars: 20 and Counting! Although I won't be following in their footsteps when it comes to the size of my family, I appreciate their story, and I admire their obvious love of God, family, and our country. If you are a fan of the show or this family is new to you, their story is an interesting one, and I am thankful for their willingness to share it.
Lauren is a wife, a mother of two, and an avid reader. She blogs at Baseballs and Bows.