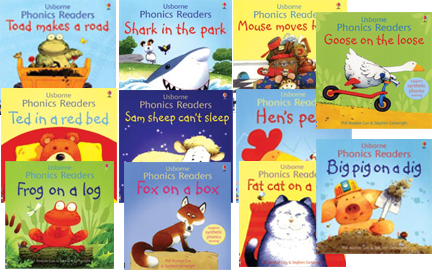 We're not quite at the Learning to Read Stage at our house yet but we're getting close. My little bookworm has finally noticed that there are letters on the page and they make mommy say something. Occasionally he'll point to a word and asks what it says. I figure at 2 1/2 that's about as much as I can hope for. (Ok, truth be told, it excites me to no end.) Therefore I am now on the prowl for phonics readers.
When I was growing up, I remember learning how to read with ABeka Readers. (Anyone else remember those?) I'm likely going to grab some of those for use with my children but I also had to take a look at Usborne's Phonics Readers. (You can buy the complete set of them from Usborne, value packs of four, or individual titles.)
A sample from Shark in the Park would be:
Pup is in the park.
"There's a shark in the park!" Pup barks.
Pup wakes Fat Cat.
She meows, "Why did you bark?"
"There's a shark in the park!" Pup barks.
The illustrations are some of Usborne's finest. They are attractive to my son because they look rather cartoonish yet the animals are all very cute and cuddly. We read Goose on the Loose, Ted in a Red Bed and Shark in the Park and enjoyed them all very much. As I read I follow the words with my finger and point out letters that I know he can already identify. Slowly but surely, and with a little bit of effort, we'll break into the world of reading. For now these books are just fun to us but if you and your kids are really working on your phonics lessons, Usborne Phonics Readers are a good diversion and special treat.
Happy Reading!
Carrie comes by her book obsession honestly, having descended from a long line of bibliophiles. She blogs about books regularly at Reading to Know.