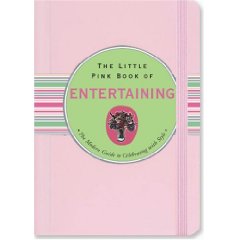 A short while ago, I reviewed The Little Black Books published by Peter Pauper Press. Now I'm back to introduce you to The Little Pink Books. As I mentioned before, I'm not a really big fan of gift books but I like these primarily because I think they are very useful! While The Little Black Books are gender neutral, the Little Pink Books are definitely geared more towards females, making them a fun pick for special occasions.
I'm particularly fond of the hospitality oriented Pink Books like The Little Pink Book of Entertaining
as well as The Little Pink Book of Etiquette
(A Civilized Person's Guide to Getting it Right – ha!). The book on entertaining offers many practical tips like house rules and creative hostess gift ideas. From setting up a buffet table to how to host a potluck or a theme party, I think this little book is a great gift for ladies who like tips on how to develop their gift – and individual flair! – for hospitality.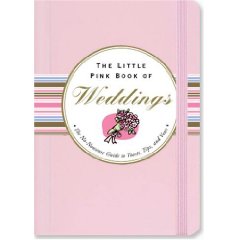 There are also books for specific events, such as the birth of a baby. The book on weddings has information about toasts and also includes suggestions to the bride for how to write thank you notes to relatives and close friends as well as to people that you don't know as well. In this day and age, when artful thank you notes are quickly becoming a thing of the past, I find even this small tip to be necessary and helpful. I love it. On the subject of writing thank you notes, a short quote by John Keats is included:
I am convinced more and more day by day that fine writing is next to fine doing, the top thing in the world.
Even if you are not interested in gift books that relate to specific topics, there is still something in the line of Little Pink books for you — provided you like the color, of course. They have a blank Little Pink Notebook
as well as an address book.
I'm not sure how much more useful and practical you can get with a Little Pink series! (Well, I think they are fun anyway.)
On the whole, there is pretty much something for everyone on a variety of subjects. I think these make great gift books in accompaniment with perhaps a gift card or household item that compliments the book of choice. There are lots of things that can be done with these books, that's for sure!
Carrie comes by her book obsession honestly, having descended from a long line of bibliophiles. She blogs about books regularly at Reading to Know.



To enter the 2009 Mothers Day Giveaway, leave a comment below. Click over to the Peter Pauper Press site and let us know which three Little Pink Books you'd like to win.
All Mother's Day Giveaways are open to U.S. shipping addresses only.
The giveaway will close on April 30, and the winner will be announced on May 1.
For information on how to enter the grand prize to win a copy of each book in the Mother's Day Giveaway worth over $225, see the instructions on the main post.
Check out the list of all Mother's Day giveaways. Enter to win each book by leaving a comment on that post.