The Little Black Book of Chocolate
: I just like to say the title and already I'm drooling.
You may have seen these Little Black Books on bookstore gift book racks. I've never really noticed them before (not being an enormous fan of gift books) but recently I thought I'd take a look at them. I was really surprised and pleased at how practical these books are. Particularly, the inside of The Little Black Book of Chocolate
has recipes for all sorts of things chocolate from a No-Bake Praline Cake to Chocolate Loaf Cake (Anyone else feel like a glass of milk just yet? My word!), Poached Pears with Hot Fudge Sauce and Chocolate Fondue — you'll find all of this and more inside this little book, making it a perfect gift for a friend (or otherwise) for Valentine's Day (or anytime really!). Just make sure you give some chocolate along with it!

You can also find Little Black Books for the drink lover as well. Coffee anyone? Try The Little Black Book of Coffee
. First things first with this book — a history of coffee! Then comes the glorious recipes like Coffee 'n' Cream float, Hazlenut-Espresso Granita, Chilled Mocha Wake-Up on down to how to make a basic espresso.
From the introduction:
I think we all pray to the first cup of coffee of the day. It's a silent prayer, sung while the mind is still foggy and blue. "O Magic Cup," it might go, "carry me above the traffic jam. Keep me civil in the subway. And forgive my employer, as you forgive me. Amen."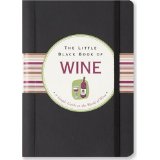 Lastly, for those of perhaps a more refined taste and with raised expectations, there is The Little Black Book Of Wine.
It is, as it says, a "simple guide to the world of wine" introducing its readers to the finer points of wine tasting and wine selection. It has useful information such has how to preserve an open bottle of wine and the proper temperature of reds and whites. This book does not contain recipes but is a good starter book for the person in your life who is just getting into wine and food pairing and wine exploration. It will teach them to read labels properly and how to better avoid bad wines. It's a lot of fun and worth a look for the beginner.
There are numerous Little Black Books available on a variety of topics and it would no doubt be easy to find something suitable for you. They ARE interesting books and I do consider these books gift books worth receiving! Which also means I find them worthy of giving!
Carrie comes by her book obsession honestly, having descended from a long line of bibliophiles. She blogs about books regularly at Reading to Know.