If your a regular visitor to this site, then you probably love book's. Their important to you, and you enjoy snuggling up with them, every chance you have!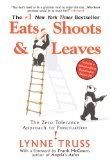 If reading those lines made you cringe, then I have the book for you. Eats, Shoots & Leaves: The Zero Tolerance Approach to Punctuation, by Lynn Truss, is a humorous rallying cry for grammarians everywhere. In this book, Ms. Truss asserts that punctuation is an endangered species that must be protected.
According to Ms. Truss:
…what happens when [punctuation] isn't used? Well, if punctuation is the stitching of language, language comes apart, obviously, and all the buttons fall off. If punctuation provides the traffic signals, words bang into each other and everyone ends up in Minehead.
and
The reason to stand up for punctuation is that without it there is no reliable way of communicating meaning. Punctuation herds words together, keeps other apart. Punctuation directs you how to read, in the way musical notation directs a musician how to play.
Ms. Truss supports her claims throughout the book using history, humor, and real-life examples. Although some portions of the book seemed tedious to me, I found myself laughing and nodding in agreement on more than one occasion. Ms. Truss is English, and many of the rules and examples in the book apply to grammar as it is used in England; however, she does mention American rules and notes the similarities and differences between the two.
In the age of text messages and email, our system of punctuation is facing troubled times. If you find yourself shaking your head at the misuse of punctuation all around you, find a copy of Eats, Shoots & Leaves today. You can comfort yourself with the knowledge that this book is a bestseller in England and America. Perhaps there are a few remaining souls who care about the written word.
Reviewer's Note: I do realize that I made several punctuation errors in the opening sentences. I was trying to gain your attention. Although I attempt to use correct punctuation in all my posts, it is possible that I unknowingly commit grammatical atrocities on a regular basis. I do try, however, and I do care. That's why I recommend Eats, Shoots & Leaves, and I support Ms. Truss' cause by repeating her rallying cry, "Sticklers unite!"
Lauren is a wife, a mother of two, and an avid reader. She blogs at Baseballs and Bows.