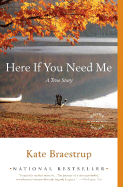 Here If You Need Me: A True Story
is a very compelling and engaging memoir by Kate Braestrup. It is the story of Kate's journey to becoming a Unitarian-Universalist minister and working with game wardens (not prison wardens – game wardens) in Maine.
I do not agree with her religious conclusions at all. I don't agree with her concept of death and what happens afterwards. However, I think she writes beautifully in a completely captivating manner! Even though I don't agree with her theology, I LOVED the way she told her story. I am not as gifted with words so I'm not sure how to describe it except to say she is an artist when it comes to the English language. I love that she uses big words and beautiful imagry that she doesn't simultaneously define and dumb down for her readers. She draws her readers in and expects a great deal from them. I LOVE that! I can't stand it when authors write something that would otherwise be brilliant but then take an extra paragraph to explain how they were just brilliant. Braestrup doesn't do that. She writes as she thinks and just lets you follow along, expecting you'll eventually catch up to her. It is supremely fascinating and satisfying.
Her calling as a chaplain on the game warden team provides her the content she needed for this book. She details several search and rescue missions that she was involved with and how she interacted with the various family members about the issue of death. She paints death scenes in a manner that forces the reader to look at lifeless bodies in an emotionless and yet spiritual way. Again, she's a gifted writer and even though I disagreed with her conclusions, I enjoyed the journey very much.
In order to really get this book, I think you have to be thinking deep. In fact, I'd say that if you aren't wanting to think deep you should absolutely not pick up this book. There are a lot of subject matters to grapple with – namely death. That's no small issue. Put on your thinking cap when you pick up this book!
There is some small amount of foul language in this book and her approach to the death of her husband is interesting. She grieves his death deeply (as any normal person would!) and you ache when she does. However, she appreciates what she sees to be a realistic approach to death which could take some people aback. For instance, she wanted to prepare her husband's body after he died (i.e., clean and clothe it) and attended his cremation. For her, that helped her to grieve and begin the healing process. I don't think many people would do that. I'll say it again – she's just a fascinating person all around and I appreciated reading her perspective on things. Here If You Need Me
was certainly not what I was expecting and not the type of book I'd pick up with any regularly. But on a whim – it was interesting.
Carrie comes by her book obsession honestly, having descended from a long line of bibliophiles. She blogs about books regularly at Reading to Know.