I clearly remember starting my first novel. I was probably twelve or so. Shawna and I took turns writing chapters in a brand new marble composition notebook. We had rules, which included no cursing and no brand names (I'm not sure why I was worried about copyright infringement, but it was one of my big concerns that would stand in the way of it from being published). I don't remember what it was about, and I don't know how far we got.
Like most bookworms, it was inevitable that at some point I would be bitten by the urge to write my own book. In fact, I was amused when I saw that my ten-year-old daughter Amanda and her friend Haley also appeared to have a similar plan in place (using an identical marble composition notebook).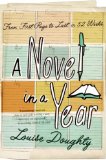 These days writing a novel is not a short-term goal of mine, but it never falls completely out of the realm of possibilities (in a long-range dream list). Sometimes when I read a novel that particularly moves me, I get a burst of inspiration and write a few pages of fiction, but lately I'm content reading, writing reviews of the books I enjoy, and updating my blog on a semi-regular basis.
First let me clarify, as the author does in the introduction, that completing the exercises in this book will not necessarily help you create A Novel in a Year: From First Page to Last in 52 Weeks. However Louise Doughty's intention is that if you indeed participate in each of the exercises throughout the year, you will definitely have a work in progress, as well as the good habits needed to continue the work needed to complete a novel.
In fact, she says that if you complete the exercises in this book, that will help you get started, gather material, make notes and plan, and writes some scenes. Your second year may be full of despair and doubt, where you put it aside and wonder if you are wasting your time. If you stick with it, the third year is where the real work of rewriting and honing will take place.
In addition to the big picture and encouraging essays about the process, there are 26 exercises meant to be completed every other week. These exercises guide you to use your experiences as a stepping-off place for fiction, and help you with character-development and editing your work-in-progress.
If you're trying to write a A Novel in a Year, Louise Doughty is someone who you want on your side.
Managing Editor Jennifer Donovan is happy filling her urge to write by blogging at Snapshot and writing reviews of the lovely literary offerings of others.