Kinna and Jimmy Henley have been together forever. Childhood friends who became high school sweethearts, they had their lives all mapped out. But after more than a decade of marriage, their house by the sea is still empty and their relationship is on the brink of disaster.
Marlo Schalesky's If Tomorrow Never Comes is different from any other work of Christian fiction I've read. Although I realize that with God all things are possible, I'm still undecided on how I feel about the ending. Unfortunately, I can't elaborate without giving it away.
I can say that, Schalesky has written an honest story of desperation, temptation, and grace. In her despair, Kinna has lost sight of her love for Jimmy. She is so confident that her marriage will be restored once they have a baby, that she jeopardizes her career. On the other hand, Jimmy still loves Kinna but is exhausted from her obsession with getting pregnant. A beautiful, and very forward, co-worker is more than willing to be his shoulder to cry on.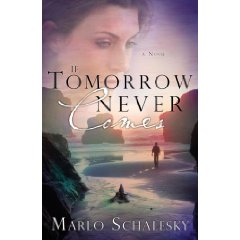 Kinna and Jimmy are trapped by their current circumstances. Schalesky takes us back to see their relationship develop, from the time they met up to the breaking point of their marriage. Even though both are driven to sin, we can genuinely understand why they've made these choices…and perhaps wonder if we would do the same.
Melissa has also struggled with infertility. She has been blessed with one amazing daughter, CJ, who provides inspiration for many posts on her blog, Breath of Life.