It's hard for me to imagine that anyone who was alive in the 1980s hasn't heard of the group Alabama. Even those who don't like country music surely heard of the band's meteoric rise to superstardom. As a teenage girl in a small Southern town, I was enraptured by their songs and their harmonies. Their lyrics, many of which were written by lead singer Randy Owen, spoke to the heart of middle class America and launched a career that has yet to be rivaled in country music.
In 2004, Alabama retired from touring to pursue other projects. Owen is a tireless supporter of St. Jude's Children Hospital and many other causes, a farmer and cattleman. At his wife's prodding, he has penned his memoirs, Born Country: How Faith, Family, and Music Brought Me Home.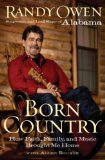 Born Country is the story of how a boy born into a poor, religiously strict family came to be one of the most well-known and loved musicians of our time. Owen opens the book by bringing the reader along on his morning ride around the farm, while he shares memories of the family and the land he loves. In fact, the entire book has the ease of a conversation with a good friend.
Owen writes candidly about his upbringing in Fort Payne, Alabama. The son of a farmer, he knew hard work and the rigors of just scraping by. (One year, his family income was a scant $800.) Yet it's clear that he wouldn't change his past. He embraces it and realizes it made him into the person he has become.
He also gives us a peek inside the courtship of his wife Kelly (they're about to celebrate their 34th anniversary), the years of paying dues in bars before becoming an "overnight sensation", and the stresses of balancing fame and reality. Fortunately, Owen's family helped him keep his feet on the ground. His mother continued to work in a factory after Owen made it big, and still lives in the same small farmhouse even today. He deeply regrets that his father died just as Alabama was rising to fame. He id dedicated to living a life that would make his father proud. Perhaps that's why his children grew up in the shadow of Lookout Mountain, not the Hollywood hills.
While Owen writes honestly about his life, this isn't a "tell-all" book. He doesn't share sordid details about the other band members or the disagreements they had. He admits they didn't always see eye to eye, but he never points fingers or calls anyone out for not doing things his way.
When I say this or that happened in the history of Alabama, that's my impression or recollection and mine only…If you really want to know what happened in every aspect of the Alabama story, you need to get the details from three people.
-from the Introduction
Randy Owen is a true Southern gentleman. He loves his wife, his children, and his mama. He speaks kindly about his town, his family and his friends. He gives back to others who are less fortunate.
And he can sing pretty well, too.
Melissa has been captivated by books for as long as she can remember. She resides in Virginia at at Breath of Life.