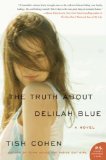 Character driven novels are by far at the top of my preferred reading choices. Tish Cohen's recently released The Truth About Delilah Blue fits squarely in this classification, with the title character easily making her mark as a unique and memorable one with a story all her own.
At twenty years old, Lila's life is not so much on a structured path, but she's doing her best to work with what she's got. Living with her father in the California hills, she's possessed with an artist's spirit but without the funds to send that spirit to art school, so she's come up with a plan that just might work. Modeling for art students provides the perfect opportunity to quietly observe and take in all the education in the arts she wants, all the while costing absolutely nothing. Sure, she can't tell her father about her plan, which isn't ideal, especially since he's been her only parent for twelve years. He's been the person to care for her after her mother didn't want the responsibility anymore and they left their home in Toronto.
Then the day comes that changes everything. Her mother suddenly appears in California and everything that Lila has believed about her life comes undone when she discovers that she was in fact "a milk carton kid," having been abducted by her father all those years ago. Along with her mother comes a young half-sister, whose own issues are wrapped up in growing up in the shadow of her missing sibling, and as untimely as can be, her father becomes ill, which threatens the possibility that she'll ever know his side of the story. As details emerge and she begins to form a new relationship with her mother, Lila discovers that there are many layers to the story of her life, and perhaps nothing is as simple as she imagined.
Going into the novel knowing that the main character will soon find out that she was abducted by her father when she was eight gives the reader an insider's perspective when first introduced to Lila. Just as she physically bares herself as an art class model, her persona is laid bare for readers to observe and take in, and she definitely makes for an interesting character study. While it would be simple, and perhaps most comfortable, to paint the main players in a parental custody battle on clearly marked fields of Good and Bad, Tish Cohen supplies us with layered issues making it difficult to cast anyone in only one light, which of course makes for a more rich reading experience.
For a fast-paced summer read with a unique storyline, The Truth About Delilah Blue fits perfectly.
Dawn's life is filled with interesting characters, as well, in the form of her three wacky kids, whose exploits are fodder for her blog, my thoughts exactly.