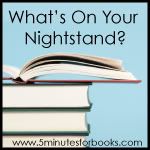 All good things must come to an end.
No, no, don't worry. What's on Your Nightstand is not one of them. We enjoy hosting and visiting around and participating in this monthly meme.
But after being a part of the 5 Minutes for Books team since we launched two years ago, both Lisa and Carrie will be stepping aside from their roles as "staff reviewers." I've enjoyed working with them, and I've loved the variety that they've each contributed to our review base.
They will each still be blogging and hopefully participating in some of our weekly Tuesday carnivals, so they won't be strangers. You can keep up with Lisa's heartfelt thoughts at Lisa Writes. Carrie will still be reviewing books over at Reading to Know, where she focuses on reviewing books for adults and children from a Christian worldview.
Since we are saying goodbye, we are also happy to be saying "hello" to a new staff reviewer.
Nancy at Life with my Boys has been a regular participant in our Tuesday carnivals, has written a few guest posts, and is an avid reader. I knew she'd be a great fit, and I'm so glad that she accepted our invitation. She enjoys popular fiction, historical fiction, children's books, and a few other genres. She is also an avid audiobook fan.
I still have a few reviews of Lisa's and Carrie's to post, and Nancy has already accepted her first review titles, so we are definitely in transition.
So, enough about us. Tell us about you! Link directly to your post telling us what's on your Nightstand. Don't forget to visit around, and see what else is on everyone else's summer reading list.
Check out our current giveaways. Subscribe to our feed. Follow us @5M4B on Twitter.
What's on Your Nightstand? Participants
Powered by… Mister Linky's Magical Widgets.