On April 26, 2006, a van carrying students and faculty of Taylor University was involved in a terrible accident that claimed five lives. Among those pronounced dead was freshman Whitney Cerak. Senior Laura Van Ryns, who was just weeks away from graduation, was identified as one of the survivors.
Five weeks later, on May 31st, Colleen Cerak walked into a hospital room and found her daughter Whitney alive.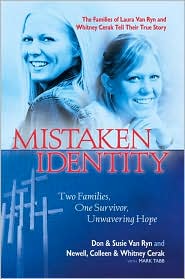 It's a story that captured national attention. How could Laura Van Ryns' family and friends have spent five weeks thinking they were caring for her? Why didn't Whitney's family realize they weren't burying their daughter?
Mistaken Identity: Two Families, One Survivor, Unwavering Hope recounts the events from the night of the accident to the revelation that it was Whitney Cerak who survived, and through Whitney's long road to recovery. The families pour out their hearts, sharing the searing pain of planning a daughter's funeral and the grueling process of watching a daughter recover from a severe brain trauma. When the mistake became apparent, both families were able to minister and care for each other as they adjusted to the new reality that faced them. Through it all, the Van Ryns and the Ceraks offer prayer and praises to the God who is their refuge and strength.
I had heard this story and wondered how something so bizarre could have happened. After reading the book, I have a better understanding. The Ceraks didn't identify the body that officials claimed was Whitney. They wanted to remember her as they'd last seen her. Laura's pocketbook was found beside the survivor, and her face was swollen and bruised. As she emerged from the coma, her initial responses to the family certainly indicated she was Laura. She knew family members and friends (the girls did not really know each other). According to the photographs taken at the time she was coming out of the coma, Whitney bore a striking resemblance to Laura.
Still, it's a strange story. I admit, I wanted to read this book because I just didn't believe the Van Ryn family could be so gullible. The more I read, the more I came to admire both families for their love, commitment and faith. I can't imagine this was an easy story to tell, but they do so with an unabashed honesty that refuses to cast blame and points to a loving God.
Melissa has been captivated by books for as long as she can remember. She resides in Virginia at at Breath of Life.