30 seconds. That's how long I waited after my mom opened her Christmas present before I confiscated her new copy of The Lucky One
to read before she headed home. I am sure that I broke some kind of gift-giving rules, but I knew my mom would let my bad behavior slide. In my defense, we gave her three different books. She couldn't read them all at once (and I didn't read it before I gave it to her)!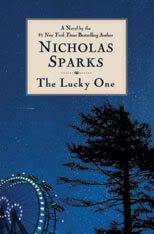 The Lucky One
is the latest novel by Nicholas Sparks. Generally speaking, I am not the gushy type, but I do enjoy losing myself Sparks' romantic tales. Although most of his stories follow the pattern of boy and girl meeting, boy and girl falling madly in love, and boy and girl dealing with some kind of dramatic twist, they are the kind of books that I can't put down until I read the final page. The Lucky One
was no different.
While serving in Iraq, Logan Thibault finds a laminated picture hidden in the sand. After trying unsuccessfully to return the picture to its rightful owner, he keeps the picture in his pocket. When several of the other men serving with him die, Logan's friends believe that the picture of the beautiful girl is keeping him safe. After returning home, Logan finds himself unable to adjust to his former life, so he sets out in search of the mystery girl. Of course, he finds her, and his life is never the same.
I wouldn't rank this as one of my favorite novels by Mr. Sparks (and I did not spend the last several chapters crying as I have with some of his other books), but I did enjoy it. The story is told from the viewpoints of the three main characters; different chapters are named for each character. Two of the characters are easy to love, and one is easy to hate. In my opinion, it is the perfect time of year to curl up with a story you can't put down, and The Lucky One
fits the bill (but you may want to be sure you are caught up on your housework and laundry first).
I picked the perfect book to swipe from my mom. I was able to return it less than 24 hours!
Lauren is a wife, a mother of two, and an avid reader. She blogs at Baseballs and Bows.