Do you have Marley fever?
The movie has been a hit since it came out a couple of weeks ago, and books for all ages are selling like hotcakes. I am going to focus on some of the great books since I haven't seen the movie yet. If you are one of the many who has seen it, feel free to contribute in the comments: How was it compared to the book? For what ages would it be appropriate?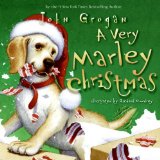 Earlier this year, Kyle's (age 4) teachers read them Bad Dog, Marley!, and all the kids loved it! Just before Christmas, I shared A Very Marley Christmas with him. He loved it! There are a lot of words on the page, and a fairly complex storyline about a young girl waiting for snow on Christmas, but it's a book he asks to hear again and again.
When I found out that there was a chapter book version for kids, I got it for Amanda (age 10). She was excited about Marley: A Dog Like No Other, but when she finished the book she was reading a few days later, she was hesitant to start reading it.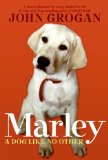 "My friend told me it's sad," she said. I told her that most dog books do end up being sad in the end, but that it was also funny, and I thought she'd enjoy it. Well, she did, in spite of me finding her in tears as she finished it up before bed one night. (On a side note, I just found out that Neil Patrick Harris narrates this Audio CD, which seems excellent).
I had finally read newspaper columnist's John Grogran's memoir about Life and Love with the World's Worst Dogjust a few months before. I thought that he did a good job of sharing the trials and joys of dog ownership, as well as showing the evolution of a family.
The most delightful discovery for me in the Marley franchise are the "I Can Read" books. At first I was surprised that they featured pictures from the movie, not knowing that it had earned a PG rating and would be marketed to families. Marley & Me: Meet Marley is a Level 1 book. The type is large and the the words repeat enough to expose children to new words once they read it a few times. It's perfectly appropriate for a curious pre-almost-reader (like Kyle), or a beginning reader. What's more, the storyline is one which reinforces an important message for kids: sometimes dogs (or children!) disappoint, but families are forever.
There's a second book in the series Marley to the Rescue!, in which Marley helps a neighbor girl who is attacked (this story was known to me from the book, but is relayed here in a way which is non-threatening to children). This simple story also manages to leave children with the assurance that even if we are bad at some things, we can be good — and helpful — as well.
Each of us can heartily recommend the Marley book targeted at our age range.
Managing Editor Jennifer Donovan is a contributing editor at 5 Minutes for Mom. She blogs at Snapshot about daily life with her tween daughter and preschool son.