My nine year old son and I have a long history of reading together, from our days of enjoying the perfectly suited Don't Let the Pigeon Drive the Bus while riding the shuttle bus to preschool each morning years ago, to our more recent experiences reading novels together, bit by bit each night. While he and I both seem inclined to primarily choose contemporary novels, with settings and characters similar to ourselves, we're branching out right now in an attempt to broaden both of our reading horizons. We're going "classic."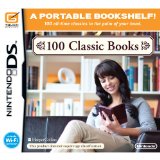 I made a commitment to read four classic works for this year's Classics Bookclub, and so far I've logged in two planned titles and two extras, so woo-hoo! But with my son, I'm taking advantage of the new software offered for the Nintendo DS system, 100 Classic Books, to introduce him to an American author who can only be described as incredible, beloved, and as classic as they come– Mark Twain.
Each night has found us snuggled up on the couch or a bed, with the Nintendo DSi XL in hand, as I read The Adventures of Tom Sawyer aloud. Some chapters are reasonable in length and others have me hoarse by the time we're finished- much later than a normal school-year bedtime! I'm finding that the flow is a little interrupted by the occasional need to clarify a passage, whether it's culturally or linguistically unfamiliar, and I have to admit that I've come upon a few words or phrases that are completely lost on me, even with the context! All in all, though, I think we're both getting the gist of the story, and we've certainly shared some laughs at that incorrigible Tom's expense.
As is well known, both Tom Sawyer's and his pal Huckleberry Finn's stories are set in a period of our nation's history of which there is much to be ashamed. Reading a piece from this time with my son, especially one that revolves around a child's experiences and perspectives, can be a bit challenging when trying to explain historical contexts that aren't comfortable or pleasant to discuss, but there's no denying the importance that Twain's works hold in capturing this time. Even unpleasant history holds value, possibly the highest value, and combining a history lesson with exposure to the witty and unmistakable writing style of Mark Twain is priceless.
Maybe my son will prefer to select a contemporary title for our next reading adventure, but I am confident that we'll be going down the classic road again soon, perhaps together or maybe individually, and with 100 Classic Books to choose from, the titles available at our fingertips are sure to call to us. And when reading with a nine year old boy, being able to integrate his innate love for anything electronic only increases the enjoyment factor.
Thank you to Nintendo for providing both a DSi XL and the 100 Classic Books software for review purposes.
Books are just one feature of Dawn's wacky life that is chronicled on her blog, my thoughts exactly. She also professed her new found love for the DS system on her other blog, mte reviews.