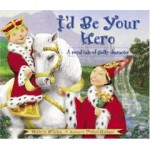 I'd Be Your Hero and it's companion title, I'd Be Your Princess (published by Standard Publishing) are top notch books when it comes to teaching your children how important that they are to you while at the same time teaching them how important it is to be young men and women of character even at their young age.
In I'd Be Your Hero
the little boy is telling his mom that if he lived back in the days of knights and dragons he would be her fearless protector, would seek fantastic treasures in her name and that he would have her sitting at the finest banquets. For each thing the little boys says "if only" about, his mother answers him that he is already strong, brave, tenderhearted and thankful. The conclusion of the book is that regardless of the time period in which the little boy lives, he will always be her little hero and she will always love him.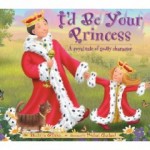 In I'd Be Your Princess
a little girl is telling her father that if he were king, she would be his princess. She talks about how they would wear matching crowns and red capes and live together in a magnificent stone castle with soaring towers. Her father, of course, communicates to her that she is already his princess, that she is beautiful, humble, loving and loved. This story is a beautiful way for father's to tell their young daughters that they are treasured beyond imagination.
In a day in age where children are frequently devalued, these books are welcomed additions to being able to communicate family love, worth and acceptance. The books do reference scripture throughout which talk about the various character qualities that each of the children are told that they have. Basically this book is filled with words of life that can be audibly spoken to young children in a way that sparks the child's imagination and communicates affirmation and affection.
These books are tremendous. I've seen other titles of a similar vein that all felt contrived to some degree. These particular books don't read as being "fake" to me. They seem simple, honest and real. I'm quite impressed and I'll be buying copies of these books for gifts for friends with small children. I like them that much.
Standard Publishing also offers a special if you buy both titles. You can purchase both books (hardcover editions) for $27. They also offer these titles as board books for younger readers if you are looking for books for a younger child.
Carrie comes by her book obsession honestly, having descended from a long line of bibliophiles. She blogs about books regularly at Reading to Know.