Back when I was in the Dominican Republic with Compassion Bloggers, Janice stepped in and did a book review in the 5 Minutes for Books column at 5 Minutes for Mom. Check out her review of 201 Things to Do When Children Say I'm Bored.
I was sent a copy as well, and I'm pleased to not only review it here, but offer a special deal to our readers!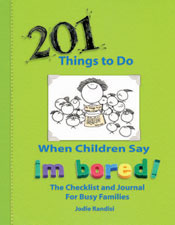 I wrote on my blog this week about how the dog looks forward to the frequent UPS visits to our house, but Amanda (age 10) loves the review copies that come several times a week as well. Even if they aren't for her, she likes to open up the padded envelopes just in case.
The day I received 201 Things to Do, Amanda was in heaven. She sat down and started looking through it, marking some of her favorite ideas with post-it notes. The things that she selected gave me an insight into what she wants from us — time!
She highlighted family diary, dessert with mom or dad, along with a few others including learn to ballroom dance together.
We all want to love our children well, and create a memorable and nurturing family life. But the disconnect between what we want and what we actually do occurs due to lack of time, stress from daily life, and lack of ideas.
201 Things to Do offers creative ideas. Some require a bit of advance planning (like ballroom dancing!), but others, such as dessert with Mom or Dad, could be a special treat that could be pulled out of your hat on a day when a child needs a little extra time.
The ideas are divided up in three sections by age:
younger children 3 – 6
older children 6 – 11
older children 6 – 16
There are plenty of books with ideas for younger children, but I love the fact that these ideas and activities are designed to last their entire childhood. And yes, booklovers, we can trust this woman! Idea #33 is "Read Aloud," and she lists a great variety of chapter books — for younger children, and a separate list for older kids.
For a limited time you can buy one, get one free of the bound version for $19.95 (or you can order an e-version for only $14.95). The author suggests that you implement idea #109 ANONYMOUS KIND DEED by successfully and secretly giving someone the second book. If you do, send the author an email and tell her about it! I think it would make a great gift for a school-aged child as well. You could stock up for birthday parties and give the book along with a few of the items needed for some of the ideas — acid-free pens, a bandana, a notebook — but the glory of this book is that most ideas don't even need any supplies.
As I was sitting at my computer this afternoon, Kyle wanted my attention (but I was working), so I turned away from my computer and tried out "Back Rub Drawing." I scratched his back and then told him to guess the letter. After a few times, he did. I scratched some more, and gave him another letter. "Now erase it!" he said, wanting more scratching. Then he asked me to turn around so that he could do mine. I can tell that this is an idea we'll do over and over again.
It was a great way to physically connect, have fun and reinforce some skills as well, and I think that perfectly describes all the great benefits of 201 Things to Do. . . .
5MinutesForMom.com and 5MinutesforBooks readers should use this code (AKT) at www.201thingstodo.com to take advantage of the author's Buy One Get One FREE special offer. This offer expires February 14th, 2009. Simply place two books in your shopping cart, and enter the code and they will both come up as half price.
Managing Editor Jennifer Donovan also blogs at Snapshot about life with her tween daughter and preschool son.