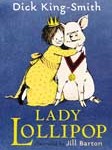 I thought the idea of this book was too cute and I had to find out more about it. Published by Candlewick Press, Lady Lollipop
is a story (written for ages 7-10) of a very spoiled princess named Penelope who gets everything she wants. Unfortunately for the king and queen, what she wants for her eight birthday is a pig. The king isn't happy about this request, but as he has raised her to be perfectly spoiled rotten, he has a hard time denying her request. The queen is especially not happy about the demand for a pig, claiming that if a pig were to enter the palace, the queen would leave it. But Penelope insists and her demand is granted.
This pig though is no ordinary pig. It was previously owned by a young boy named Johnny Skinner who had trained it to be obedient to different commands. The princess wants the pig to obey these same commands so long as she is the one hollering them out. Penelope learns that she won't get everything she wants by stomping her feet and demanding but that kindness and concern for people other than herself is key in getting the response she is after. Young Johnny Skipper is to thank for the change of character within the princess for as he was teaching the pig to be palace-trained, he was also teaching the princess how to consider the feelings of others.
This is a cute book with a moral to it. The king and queen are somewhat frustrating characters to me because of their inability to say "no" to their child. However, the book makes it clear that they suffered for it. The message of the book is strong in that we should care more for others than for ourselves and kindness trumps attitude. The illustrations by Jill Barton are very cute and classic. This book was originally published in 2000 but it has a timeless feel to it that makes it very appealing. It's worth looking into! I'm glad I found it.
If you find that you like Lady Lollipop
, you'll be happy to know that there is a sequel entitled Clever Lollipop
.
Carrie comes by her book obsession honestly, having descended from a long line of bibliophiles. She blogs about books regularly at Reading to Know.