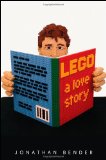 This book has a fantastic cover that initially drew me to it. The idea of an adult man reconnecting with a childhood love of building bricks was also fascinating. It's billed as a memoir, or at least that was what I thought it was, and has elements of a "project memoir" wherein the author delves into a certain subject or theme with a goal in mind. In this case, Jonathan Bender wanted to research AFOLs (adult fan of LEGO) as well as become one himself.
But I would call LEGO: A Love Story more of a researched book than a memoir. Yes, Bender shares some of his personal experiences, and the story is told through his eyes as he joins LEGO conventions and tours the headquarters in Denmark and the U.S. headquarters in Connecticut, but in general it's a feature about AFOLs and the history and future of the LEGO company.
I did learn a lot about legos. First off, you never call them "legos." LEGO is the brand, and should only be used as an adjective as in "LEGO building blocks" or "LEGO kits," or in reference to the company itself. After reading 300 pages of correct usage, I'm probably a convert and will be annoyed by everyone else's incorrect use from here on out.
I think that this book would definitely appeal to adults who play with or collect LEGO, but also to anyone who remembers LEGO fondly from their childhood. Reading this book made me happy that my son's collection is steadily growing, and honestly makes me look forward to tackling bigger projects with him.
This book could definitely be a popular Father's Day gift — from a grown son who remembered building LEGO with his dad, or to a new father who has the opportunity to legitimize his LEGO play once again. But then again, the whole idea behind LEGO: A Love Story is that LEGO can appeal to adults in a completely unique (and legitimate) way.

Jennifer Donovan has enjoyed discovering toys with her son that she missed in her girlhood, like Thomas the Tank Engine, Matchbox cars, and yes, of course, LEGO. She blogs at Snapshot.