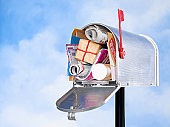 It's another week of "what came in our mailboxes" with Mailbox Monday. See what we received, and check out the other Mailbox Monday participants at The Printed Page. But beware: Mailbox Monday can lead to envy, toppling TBR piles, and humongous wish lists.
LAUREN
The whole 5 Minutes for Books team got a wonderful shipment from Nintendo this week. We are all going to be taking a look at the new

100 Classic Books, a new application for the DS. It works on any DS, but is specifically targeted to the brand new larger Nintendo DSi XL, which we each received as well.
I haven't even let my kids touch the new DSiXl, and they are jealous. In fact, I let my eight-year-old son use the 100 Classic Books cartridge in his DS, and he has already started reading a book on it. If I had handed him Tom Sawyer in print and asked him to read it, he wouldn't have wanted to, but he looked through the list, picked out something to read, and thinks it is SO COOL just because it is a video game system. I think that is a huge hook for boys (he loves reading books, but WOW! IT'S A BOOK ON A DS!!!!).
DAWN
Talk about surprise packages! I was shocked to see a box full of goodies from Jennifer and Carrie, including some previous review titles that they thought I'd like- The Council of Dads, The Motion of the Ocean, and A Soft Place to Land. Jennifer also issued me a challenge; since I'm somewhat disinclined to read what I call "mass market authors," she included a copy of My Sister's Keeper and is outright daring me to read it and NOT love it. We shall see.
A review copy of Free to a Good Home came in, and I've got it on the schedule so I'll be ready to post when we participate in the blog tour in early July- complete with a giveaway!
An advanced copy of 32 Candles also showed up this week, which won't be released until later this month. I'm hoping it will be a fun summer read.
CARRIE
Since I knew I was going to be attending the Book Expo and would be coming home with a lot of books to read, I was delighted not to receive ANYTHING in my mailbox last week! This week things have picked back up again though and I confess I rather missed it. It's always fun to see new titles arriving on your doorstep!
Smells Like Dog–I received a copy of this book in the mail just in time for a book tour. The premise sounded cute – it's about a boy who dreams of being a treasure hunter, like his uncle. I have three copies of this book which I'm giving away over at reading to know if you'd like to hop over, read my review of Smells Like Dog, and enter to win a copy!
I was also excited to have a copy of This Time Together: Laughter and Reflection land in my mailbox. Surely everyone has a good Carol Burnett memory or two. I always hesitate before picking up a celebrity memoir (not ever being certain as to what I will find out about that I never wanted to know!) but I am excited to delve into this one. With fingers crossed, I anticipate the read!
JENNIFER:
I'm feeling a bit self-conscious about my bounty this week. Let me just say that I don't always receive so many books, and also that all but a small few were unsolicited. I've come to love my unexpected shipments from Harper Collins Children's and a few others. A book that I've requested or ordered is one thing, but little surprise packages are priceless!
Ten Black Dots by Donald Crews is being released as a board book. I shared my absolute love of board books when I reviewed another Greenwillow board book re-reissue A Good Day. This book is a perfect first counting book, since those dots leap off the page as they are used in different vignettes, featuring from 1 to 10 dots. I wasn't familiar with it, but my six-year-old son said that he read it in Kindergarten and picked it up to read to himself, so it's definitely "kid endorsed and mother approved!"
Read All About It! is being released in paperback format. I love the Bush women's commitment to reading. This story by Laura Bush and Jenna Bush Hager features a teacher Miss Libro (clever name!) who really makes books come alive.
From Hachette's Faithwords, Chasing Lilacs: A Novel

Each Tuesday we have a different meme that you join in, from Kids' Picks to What's on Your Nightstand, to a Children's Classics challenge. Join Us!
Check out our current giveaways. Subscribe to our feed. Follow us @5M4B on Twitter.