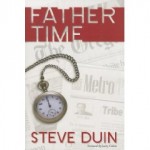 Steve Duin makes the suggestion that you take this book slowly. He'd have you savor the moments and sort through the "chapters" at a slow and steady pace. Quite frankly, that's hard to do because he has such a compelling writing style that I just had to keep reading until, lo and behold, I discovered I had devoured the book.
Steve Duin is a Metro columnist for The Oregonian in Portland, Oregon. For over twenty years he has written about everything from sports to Legos being hidden up his children's noses, to politics to triumphs of the common man. This book is a collection of the articles that he says have mattered the most in his life. Not surprisingly, the large majority of articles in this book are about family and fatherhood.
Published by arnica publishing, the only great caution I have to offer about this book is in the forward, which was written by Larry Colton. Colton uses language that bothers me and furthermore, the forward doesn't accurately depict the tone of the book at all. In fact, my husband read the book without reading the forward and told me it was "pretty good" and that he enjoyed Duin's style. So when I picked it up and started with the forward I was totally caught of guard, wondering what exactly my husband was thinking! I stopped reading the intro and moved on to the book and then I discovered everything my husband enjoyed about this collection of stories.
Steve Duin is father to three grown children. The articles included here range from the time of his wife's first pregnancy to sending his first born son off to college. The feelings he relates about parenting, finding a good babysitter, driving in snowy Oregon, faith, hope and baseball are all things that we can still relate to. I think his articles are rather timeless in a way, and certainly relevant even today. A love of family is expressed and appreciation for his community as well. He has a very compelling and endearing way of writing such that I was easily able to gloss over differences in personal opinions and beliefs (of which there were only a few).
This book makes for great "installment" reading. Each article is only 2-4 pages long. That is, of course, as he would recommend it. However, if you "rush" through it as I did I think you will find it equally enjoyable. I've never read Duin's writing before this but I have to say I wouldn't be sorry to read more. In fact, I'd quite enjoy the experience.
For a taste of Duin's writing, you can view articles he has written on The Oregonian website.
Carrie comes by her book obsession honestly, having descended from a long line of bibliophiles. She blogs about books regularly at Reading to Know.