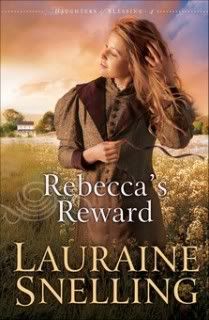 After several weeks with highs in the 30s, I am reaffirming something I already knew about myself. I don't like to be cold. (I'm a southern girl; highs in the 30s are cold for southern folk.) I am so thankful for heat, hot water, and electricity. I mention this because one of the reasons I appreciate historical fiction is that it helps me to appreciate the comforts of my life. Even more specifically, historical fiction about America enables me to realize how far our nation has come and the hard work it has taken to get where we are today.
Lauraine Snelling's Red River of the North series includes six stories about Norwegian immigrants who settle in North Dakota. Winters are harsh, and life is difficult. By relying on God, family, and friends, the Bjorklund family perseveres through sorrows and joys to help establish the town of Blessing. I highly recommend this series. As a follow-up to these books, Lauraine Snelling has written four novels in the Daughters of Blessing series. Although the heroines reap the benefits of their parents' hard work and dedication, they face their own challenges as young ladies at the turn of the century.
In Rebecca's Reward
, the fourth book in the series, Rebecca Baard has dreams of opening her own soda shop in Blessing and finding Mr. Right. After the death of both her parents, however, she finds herself living with her brother and supporting him as he manages the family farm. Although she is thankful to be surrounded by her remaining family and a community of friends, Rebecca sets out in search of the life that is right for her.
I enjoy these books immensely. Lauraine Snelling weaves timeless stories into well-researched historical settings. The women in Mrs. Snelling's stories remind me so much of the Little House on the Prairie characters that I admired as a child. The women are hard-working, yet graceful. They support their husbands, they love their children, and they have a strong faith. Reading about the challenges faced by these women makes me appreciate even more the general ease of my own life. And while things are certainly more convenient these days, the need for faith, family, and friends doesn't change no matter what century it is. Reading these books will remind you of the importance of all your blessings!
If these books interest you, I recommend that you start with An Untamed Land
, the first book in the Red River of the North Series. If you have already read these, be sure to read Rebecca's Reward
and the other titles in the Daughters of Blessing series.
Lauren is a wife, a mother of two, and an avid reader. She blogs at Baseballs and Bows.